A Pox on Both Their Houses


Do you live in Alabama and desire a nice drive with congestion-free traffic, a good tee time or a short line at Wal-Mart? Then come the 3rd Saturday of each November–the day that Alabama stands still–venture out to recreate or run your errands during the annual Iron Bowl between Alabama and Auburn and you'll have free run of the "Yellowhammer State."
Iron Bowl weekend is now history, and Big Al is crying in his beer while Aubie is strutting tall and talking trash after Auburn's 28-18 thrashing (it wasn't as close as the score indicated) of the Crimson Tide on Saturday. As a native Virginian transplanted in Alabama, I have yet to develop a strong allegiance in our little intrastate civil war, although I will admit to being a little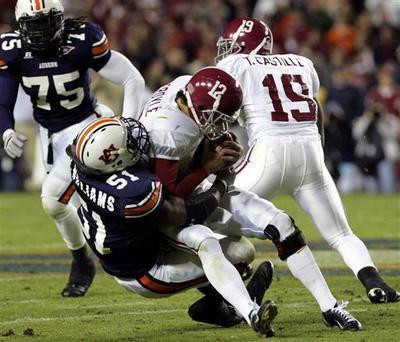 disappointed with Bama's poor showing. I had hoped for a better contest and a closer finish, but instead got a game that was for all intents and purposes decided in the first fifteen minutes. Alabama's sieve-like offensive line gave up 11 sacks, leaving Bama quarterback Brodie Croyle watching much of Saturday's action from the recumbent position, as the AP photo by Rob Carr above amply shows. Although Bama "won" the second half 11-0, it was too little too late and now they must endure the mocking t-shirts and Tiger taunts for a grueling 365 days until they get a chance to exact their revenge.
Last year I was pulling for Auburn to stay undefeated and in national title contention and this year I was rooting for Shula and his boys as they seemed to have finally extricated themselves from the pit of scandal and mediocracy and be headed for the glory days of the past. The way I figure it, the better both teams do, the better our image nationally, and the last time I checked, Alabama's reputation could still use a little repair work. With Judge Roy "The Rock" Moore running for governor next year, I was hoping that we could generate as much positive press as possible before it all hits the fan again.
Although the Bama's big win over the Florida Gators earlier this season resulted in a national media frenzy, it was a Pyrrhic victory as they lost offensive sparkplug Tyrone Prothro to a broken leg in a freak play eerily reminiscent of Joe Theismann's gruesome game injury in 1985. The Sports Illustrated cover which followed led to the inevitable jinx which in turn brought nothing but an anemic offense and the first loss of the season to the LSU Bengal Tigers. With Auburn's huge win over Georgia "Between the Hedges" at Athen's Sanford Stadium, this is one train wreck that many saw coming.

Although my college football tastes turn toward my birth state's Virginia Tech Hokies, the rest of our house, like many in Alabama, is a divided one. Numbers One and Three sons, both born in Alabama, are dedicated Tide fans. Number Two son, however, being our only one born in Tennessee, prefers bloodhounds and coonskin caps and marches to the tune of Rocky Top. With UT's precipitous fall from grace this year, Number 2 is, understandably, keeping a low profile–after Saturday's loss to Vandy, as low as a submarine taking on water. Although Bama's drubbing would have been the perfect time for a Vols fan like himself to talk a little smack to his brothers, what is there to say, really, after losing for the first time since 1982 to the perennial SEC laughingstock Commodores?
With both teams at 9-2 and with losses to LSU, it looks like the Tide and the Tigers will most likely be sitting out the SEC Championship game then looking on as Texas and USC battle it out for the national title. Meanwhile, the curses that have flown back and forth across the state line between Alabama and Tennessee in the wake of Vols Head Coach Phil Fulmer's alleged role in ratting out the Crimson Tide to NCAA investigators appear to have resulted in an unintended consequence–"A pox on both their houses."