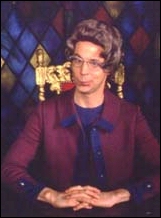 I am not a prude. Nor am I a teetotaler. Not even close. I believe God made the body– "and it was good." I would have made a horrible Gnostic.
Still, some of this made me blush (be sure to watch the video clips and Joe Beam's interview with MSNBC's Lester Holt–who, by the way, attends the Manhattan Church of Christ).
A necessary and overdue corrective to the church's longstanding "bury thy head in the sand" approach to human sexuality or just a little too much information, thank you very much?
Like a lot of things, I guess, it depends on who you talk to. Personally, I dig the poetry, mystery and metaphor of Song of Solomon more than the nuts and bolts, buck-naked "lay it all out in the open for the world to see" approach. But then again, I'm not a family therapist trying to save marriages.
Maybe there's room (and need) for both.
———-
Update 9/20/06@10:45 PM
For those who are arriving here via the post at RedBlueChristian.com in which Mr. John Gillmartin apparently called me a "reprobate" (presumably for having posted on the subject of Joe Beam's seminar, and in Mr. Gillmartin's mind, endorsed it)–welcome!
Unlike Mr. Gillmartin, I do hope you've taken the time to actually read my post and to think carefully about what I wrote. If so, hopefully you have realized that I have tried to be fair toward Mr. Beam in what he is attempting to accomplish despite the fact that his techniques give me some pause. I will elaborate on exactly why that is so in the comments at a later point after others have had a chance to chime in.
As for Mr. Gillmartin, that was rather uncharitable of him to imply that I am a morally unprincipled person and to consign me to eternal damnation considering that he claims to wear the name of Christ and doesn't know me from Adam, but hey, no sweat. I'll take traffic anyway I can get it.