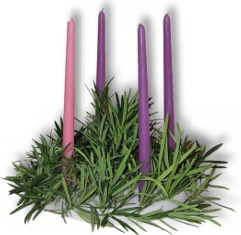 Let me just say this up front: I love the Church of Christ. Prior to the good-natured and gentle rebuke, I state for the record that the Church of Christ does considerably more good than harm, and that I for one have suffered no irreparable damage from my experiences in that denomination. Despite her flaws and freckles, and even with her red-faced, arm-crossed "I'll just have a piece of dry toast, no butter or jam for me, thank you very much" approach to the Christian faith, I love her still.
She was was my nursemaid in the faith, the place where I learned scripture and where loving and caring hands laid the foundation of my Christian formation. The Church of Christ is the community where I remain to this day and where my children are also learning to walk in faith. I confess no small amount of loyalty to my tradition. But I also believe that family ought to be able to talk openly and honestly to one another. And with all that said, I offer up my childhood memories of the sometimes comical, a little bit pagan, always bare-boned "Church of Christ Christmas," along with the case for Advent and tradition in the life of the Christian.
I guess when you get down to it, I have always been a devotee of pomp and circumstance. I remember as a child being fascinated with and attracted to the many colorful sights, smells and traditions of the "other churches" around town during this time of year: the hanging of the greens, Advent wreaths, aromatic incense, nativity scenes and the warm and colorful glow of candles behind stained glass on a snowy, December night.
I longed to venture inside the other churches and to peek behind the story-filled stained glass and perhaps catch a glimpse of the mysteries unfolding away from my own reductionistic and rationalistic tradition. I desired to add my voice to the rhythmic chant of scripture and creed, to speak in unison with saints past and present and to fall into step with the ancient cadence of Christian pilgrims who for centuries had traveled the road of faith before me.
At my own church, mention of the Baby Jesus during the Christmas season was taboo, just like the subject of the Resurrection during Easter. We carefully excised all mention of Christ's birth, but with few exceptions eagerly joined in the more general spirit of Christmas cheer. In doing so, we unwittingly participated in the pagan feast of Saturnalia. Just like the ancient Romans, we exchanged gifts and did good deeds of charity and celebrated in feast and song. Along with the Druids, we hung our circular wreaths and decorated our trees, all the while oblivious to their ancient pagan symbolism. Like the secular Brits of the Victorian era, we embraced the good cheer and revelry (minus the alcohol, of course) of the bacchanalian "Father Christmas."
But when if came to Christian overtones, we dared not mimic "those Catholics and Episcopalians." Instead, we stood in the corner like self-righteous wallflowers while the rest of Christendom feasted and danced in celebration. "We celebrate Christmas and Easter every Sunday," some would say. Others would chime in, "There is no scriptural command!" I remember wondering what would happen if a husband failed to mention his wedding to his wife on their anniversary, citing the excuse, "I celebrate our wedding every day, dear. There is no scriptural command, ergo, no need for all the pomp and circumstance." Somehow, I remember thinking, that probably wouldn't go over very well.
Such presumptive precision would of course fall flat because humans are by nature, and for good reason, commemorative creatures. Early Christians did not look to scripture for express commands on every jot and tittle of faith and practice. Instead, they retained the spirit of festival, and like their Jewish forebears, celebrated and encouraged "sacred time" as a means of nourishing and encouraging the faithful.
To pause and remember, to feast on God's bounty, to create colorful commemorations and celebrations are urges as natural as breathing. To choke and suppress these noble instincts is to cut off a vital piece of our humanity and to invite drabness and the death of mystery. To disregard tradition is to turn a deaf ear to the voices of the past and to still the ancient song of "deep calling to deep."
Against this sweeping tide of dry reductionism stood my father, who had more than a little of a mischievous streak. He was an elder in our church and also the regular songleader, and on occasion he liked to stir the pot a little. Around this time of year, with a trace of a wry smile forming on the corners of his lips, he would lead traditional Christmas favorites like Silent Night or Away in a Manger, invoking a few hard glances and a snide comment or two from the folks who he felt took themselves and their hard and fast opinions a bit too seriously.
Looking back, I think he was teaching as much as he was tweaking, sending the message that God would be pleased with any effort, no matter how "unscriptural," if it was done to honor his Son and to turn our thoughts toward the mystery of Incarnation.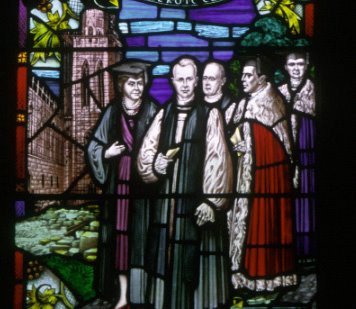 And so the seeds planted by the father took root in the son, and today I embrace the tradition of Advent with it's call for self-examination and "wakefulness" in light of the first coming of long ago and the second one yet to come. During the evening meal, our family gathers around our Advent wreath and lights the candles–purple for penitence, pink for joy, white for the purity of Christ. Together we trek "up the mountain" to All Saints' Chapel at Sewanee and join hundreds of other pilgrims in the Service of Lessons and Carols. At First United Methodist Church in Huntsville, we participate in the medieval Boar's Head Festival and learn the moving story of Good King Wenceslas who was determined to bring food, wine and warmth to a poor man and invited his young page and assistant to "mark his footsteps" and to "tread now in them boldly" as the night grew darker and the winter wind blew more strongly. On Christmas Eve, we seek out a liturgical church and join the queue near the altar around midnight, eagerly anticipating the coming of Jesus in the bread and the wine.
In all of this, we are nourished and fed by the sense and sensibility of those who have come before us and the traditions of those "on whose shoulders we stand." Regarding tradition, G.K. Chesterton wrote:
"Tradition means giving votes to the most obscure of all classes, our ancestors. Tradition refuses to submit to that arrogant oligarchy who merely happen to be walking around."
Such "chronological snobbery," as C.S. Lewis called it, lies at the root of the objections of my childhood naysayers. They were the ones who, after all these centuries, finally discerned the thoughts and minds of the early Christians, perhaps even better than the early Christians themselves.
To reject an invitation to the Christmas feasts out of conscience is not a sin, for "each one should be full convinced in his own mind (Romans 14:5-7)." Christianity is about more than feasts and special days to be sure. But to decline and at the same time condemn those who accept, is to be guilty of the sin of presumption, which, while having "the appearance of wisdom," in the end forces an unhealthy asceticism on others in an unloving and arbitrary manner that has no place in the Christian life (Colossians 2:16-23).
Pardon me, but I think I'll take a pass on such preening and opt for the pomp and pageantry of Advent and Christmas in all their fully-orbed Christian splendor. I don't mind you choosing the wallflower option, but please don't step on my dancing shoes. I'll take the Mother and Child, a dirty, smelly manger and God-in-the-flesh over Saturnalia any day.