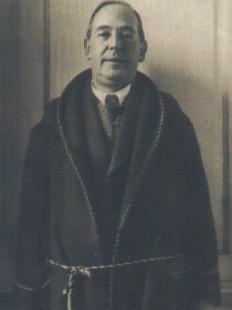 We recently marked the 42nd anniversary of C.S. Lewis' death, but today is the 107th anniversary of his birth. Dr. Bruce Edwards, Professor of English at Bowling Green State University and a renowned Lewis expert, has an excellent birthday tribute to Lewis at his site, Further Up and Further In.
I'm excited that the upcoming screen adaptation of The Lion, the Witch and the Wardrobe is bringing renewed interest in Lewis and his works. I recall fondly teaching a Sunday school class a few years back on The Screwtape Letters. My particular denomination is not exactly well known for its intellectual rigor and interest in British authors, so I was a little concerned that no one would show up. Not only did they come, but there were so many that there wasn't a classroom big enough to contain everyone and we had to move it to the church foyer and set up chairs.
As I looked around, I noticed several older members who had copies of the book, probably dating from the late 50s or early 60s, with creased covers and yellowing, dog-eared pages. I suddenly realized that there were at least some in the Church of Christ who were reading Lewis long before they were able to discuss his work openly in a Sunday school class. They had "come out of the closet" (or maybe I should say wardrobe!) and were eagerly satisfying at long last their hunger for richly layered discussion and an exploration of the role of the arts and the imagination in discipleship.
I'm hoping (and expecting) that the upcoming movie will kindle this desire in a new generation and maybe even fan the flames in a few other "closet" Lewisphiles. In any case, "Happy Birthday Jack!" We are all better for having known you.