The Battle of the Bisons(es)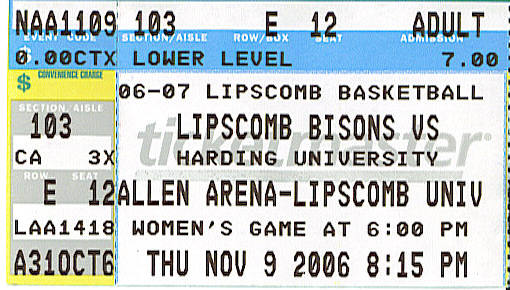 Two schools, one a Division I, one a Division II. Each with a Church of Christ affiliation. Both with founding fathers sporting beards (one of whom looked like one of the guitarists from Z.Z. Top). A shared nickname (what's the deal with old guys with long beards and their affinity for large, bovine prairie animals?).
It's the Battle of the Bisons(es). It's going down.
Or, I should say, it went down last night at Allen Arena on the campus of Lipscomb University in Nashville, Tennessee. Our family made a mad dash north on I-65 last night to witness the first meeting between the Lipscomb and Harding basketball teams since 1976. The teams had previously played 16 times between 1967 and 1976, with each team winning eight games. For the Lady Bisons(es) who played prior to the men's game, it was their first meeting ever.
The evening got off to a great start for Harding, as the the D-II Lady Bisons from Searcy toughed out a 69-62 win over their city-slicker D-I cousins from Nashville.
I say again, D-II over D-I, with freshman Kelsea Lyda leading the way with 18 points off of six three pointers. As a team, the HU Lady Bisons shot a blistering 45% from beyond the arc and were 14-of-16 from the charity stripe.
Here's a picture of the Lady Bisons(es) duking it out: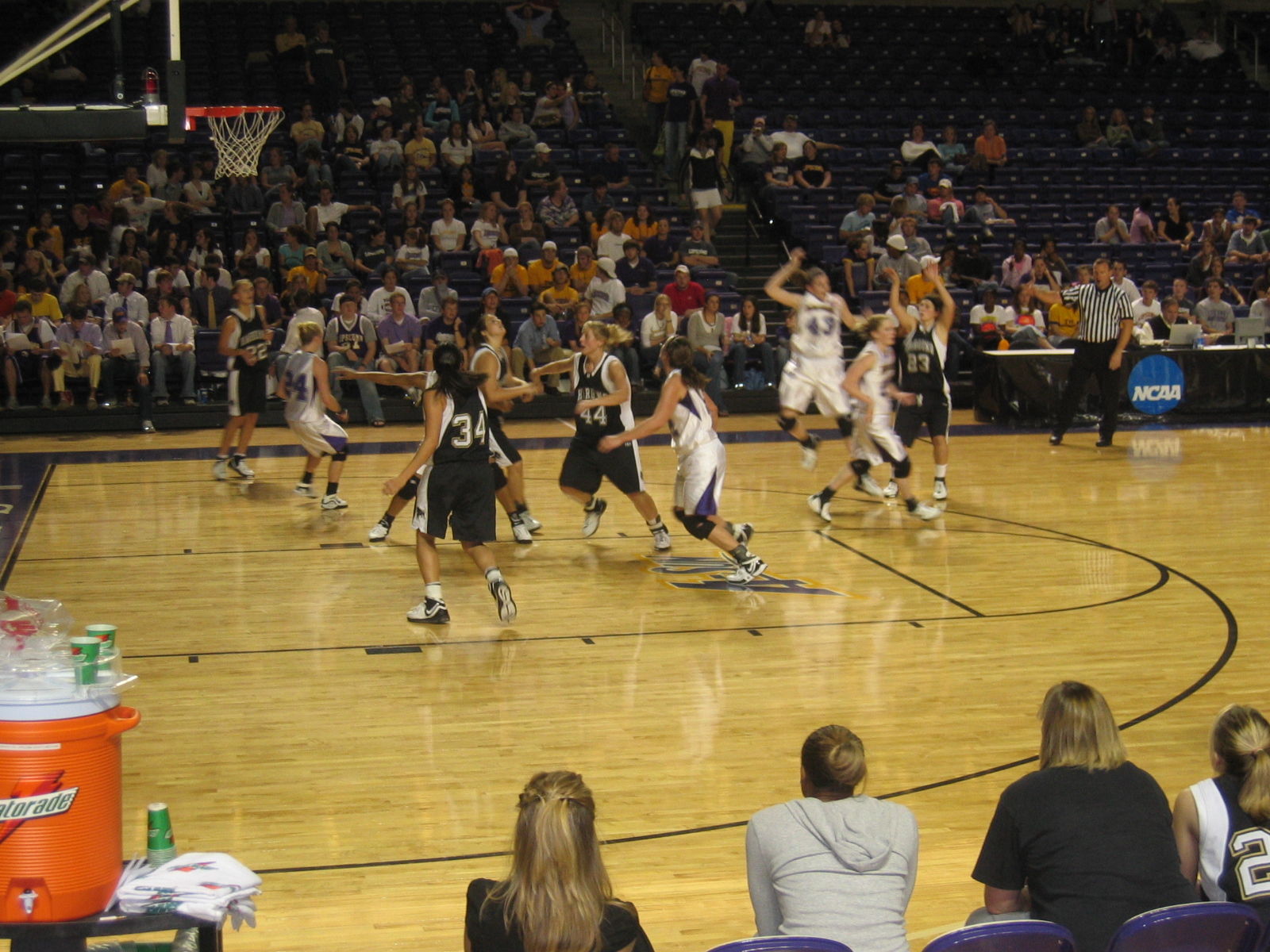 On to the main event. Which as it turns out, was looking pretty grim in the first half of the first half with the LU Bisons streaking ahead of Harding 25-6 with 8:15 left. Harding looked intimidated and uptight early on, as the uber-quick feet and hands of their D-I foes seemed to be more than they could handle.
I think they learned a thing or two about D-I officiating too in those early moments. The way it works is that if you're a D-I home team, you can launch your body into your visiting D-II opponent with impunity, whereas if you're a D-II player and so much as brush leg hairs with your taller, stronger, faster D-I opponent, you get whistled for a foul.
Or at least it looked that way to me. Not that I'm biased or anything.
But Harding finally got loosened up a bit and managed to close the gap to 37-28 at the half with a 22-12 run, bringing the large group of Rhodes Rowdies and Harding alumni to their feet.
That's right, a large contingent of Rhodes Rowdies made a road trip all the way from Searcy to cheer on their squad and to show their Lipscomb counterparts how it's done. Here's a shot of the Rowdies doing their thing: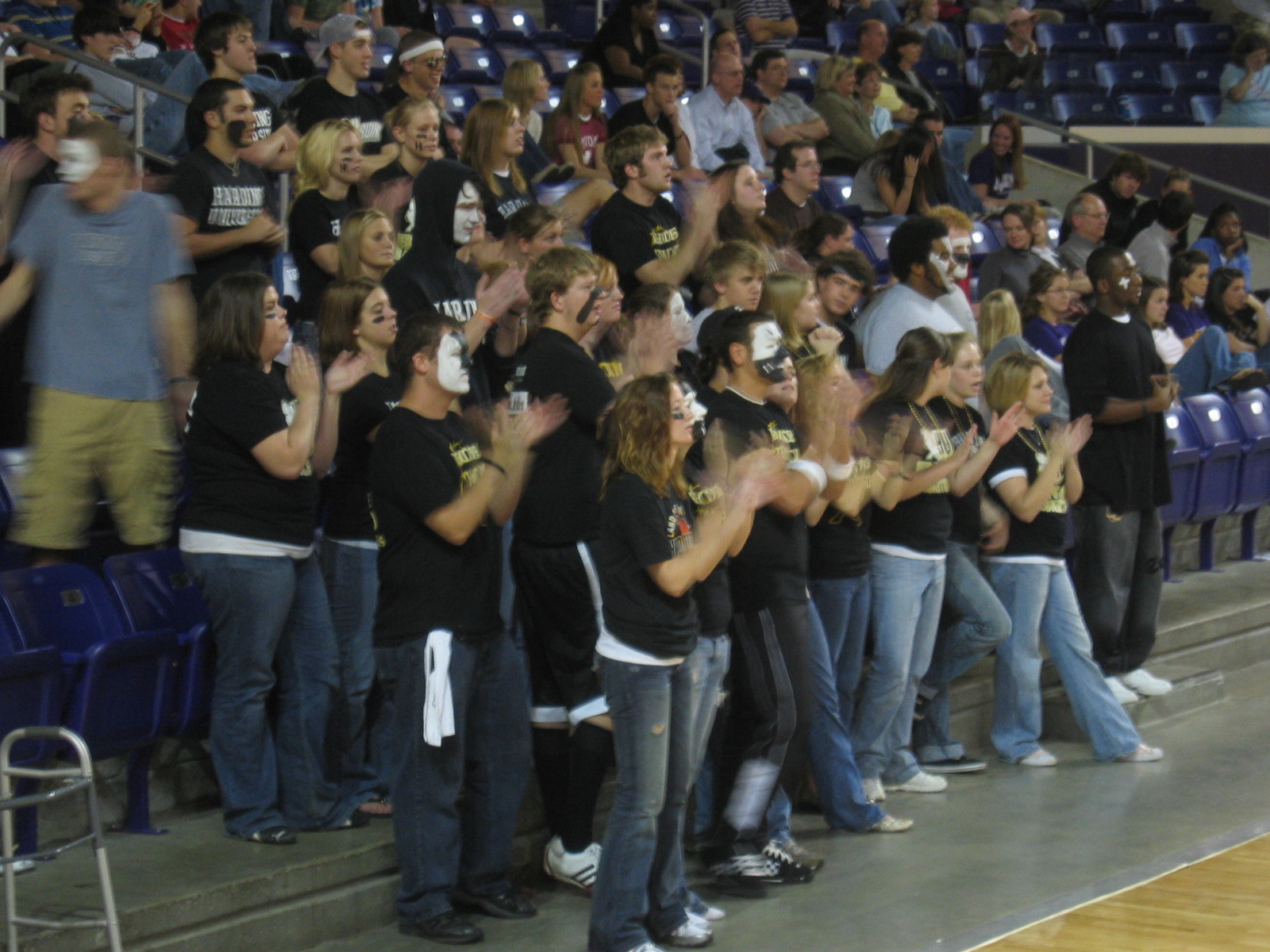 And here's a shot of the Lipscomb student section: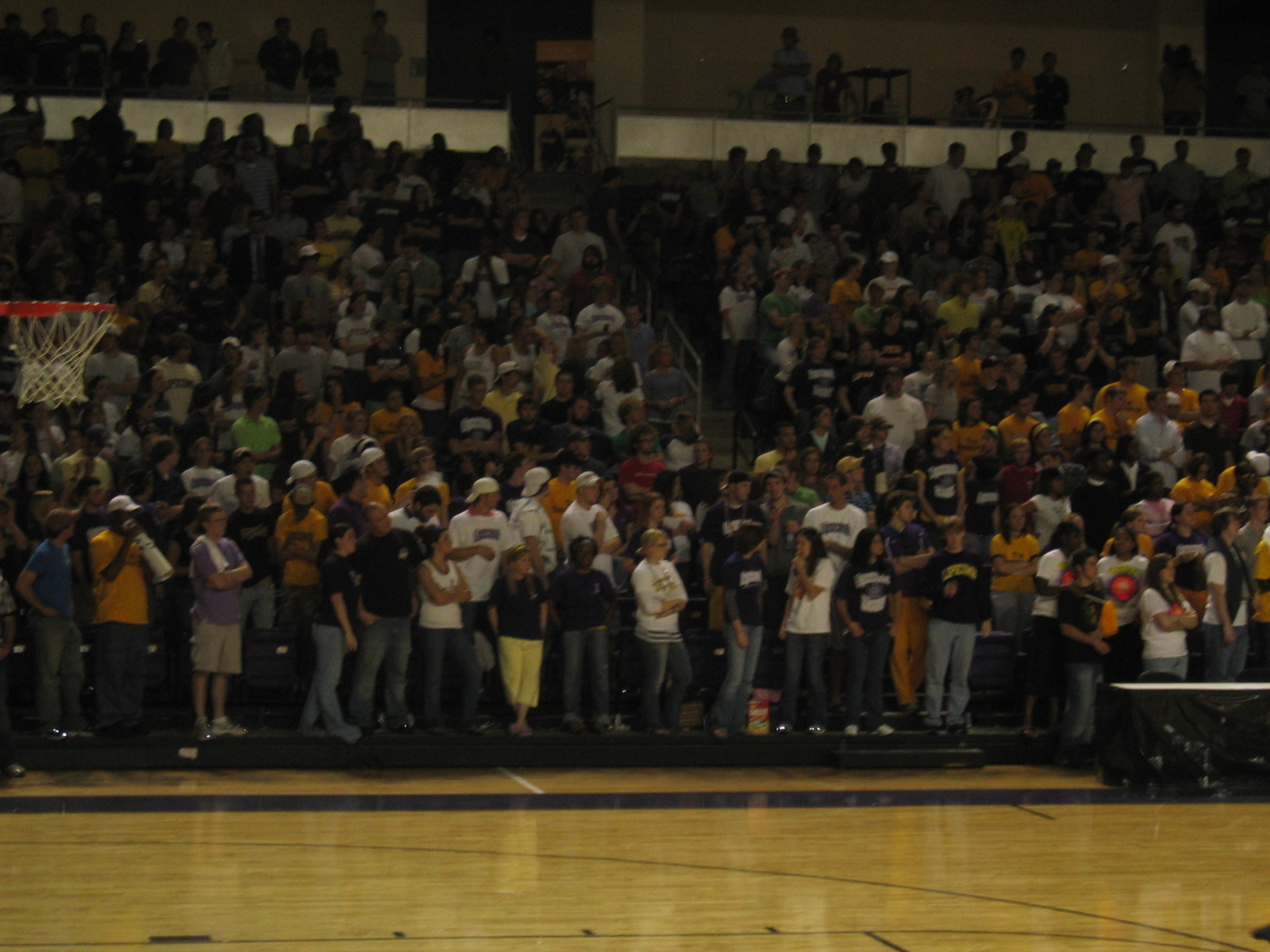 Notice any difference? I'll give the Lipscomb crowd one thing though. They finally got their hands up in the air at halftime when the cheerleaders threw out all those t-shirts: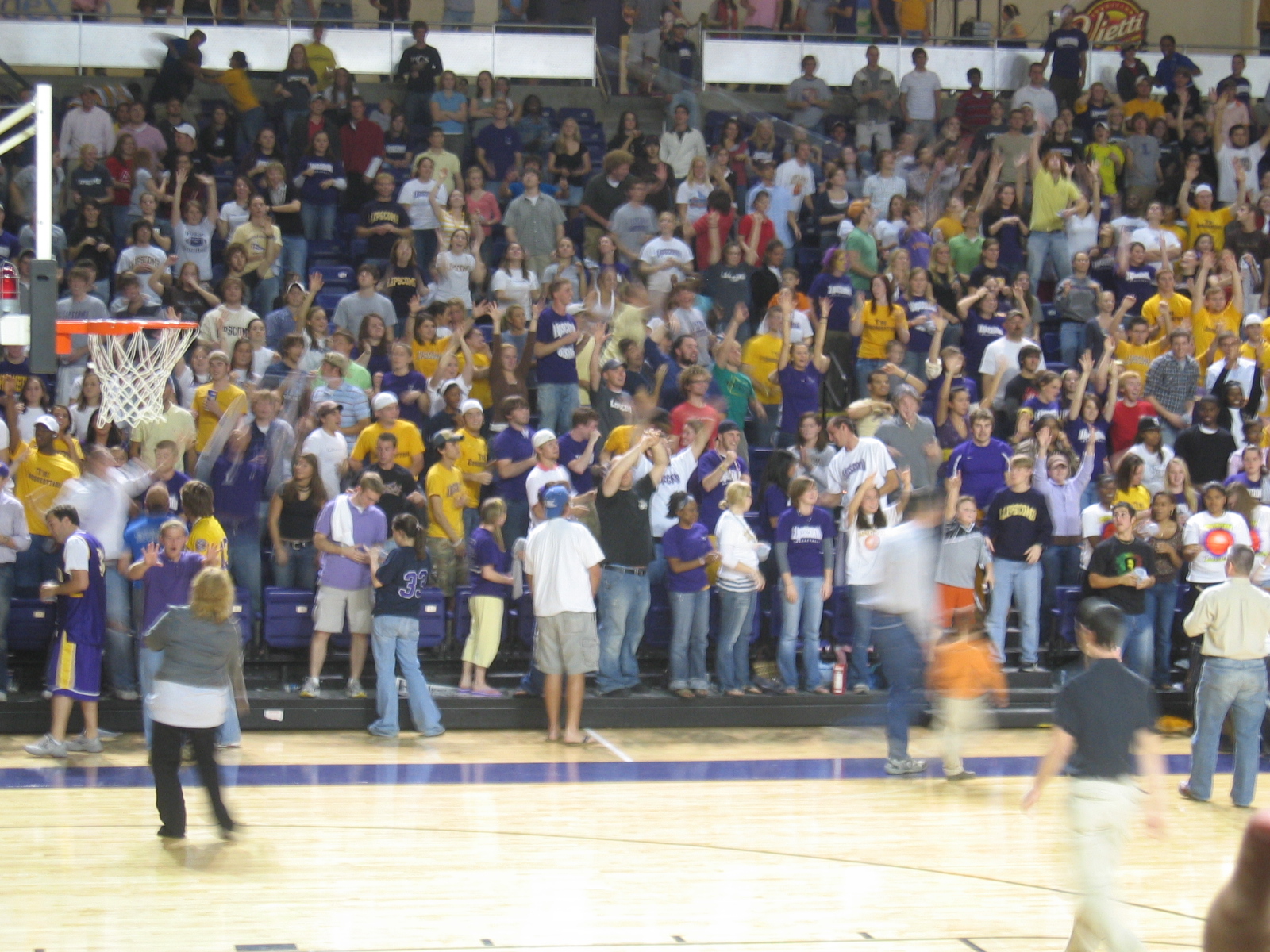 I think somebody needs to get a D-I student section to go along with their D-I team.
(Nah, I'm just kidding you guys. You know I love ya. But you really do need to work on your synchronization. I might also suggest face paint, rather than those preppy baseball caps and ties. Oh, and the whole "keys and the bus" thing at the end? That's so 90s. Please.)
Halftime brought us a contest of a different sort–the battle of the signs.
Here's one from a Rhodes Rowdie: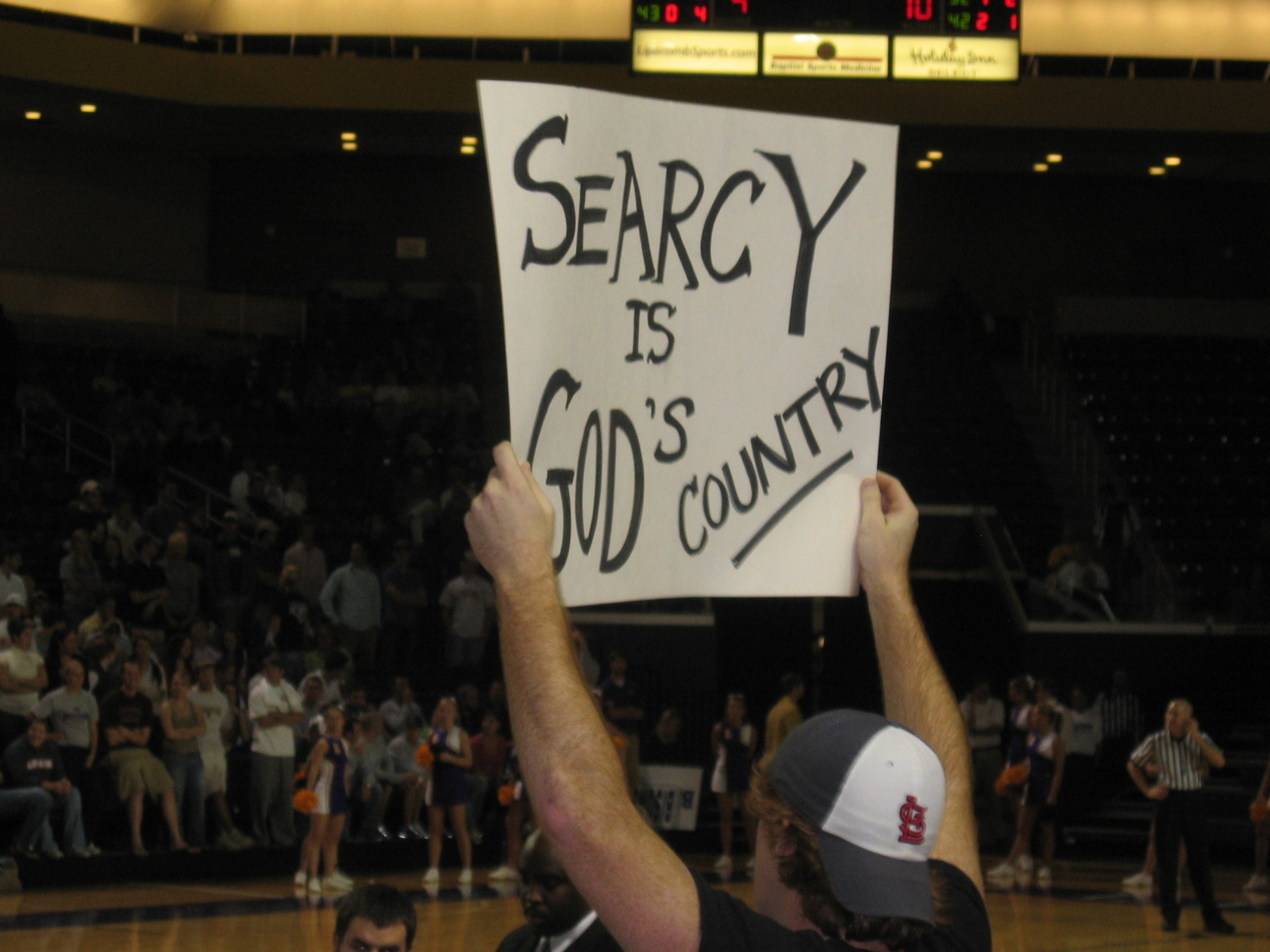 Followed by: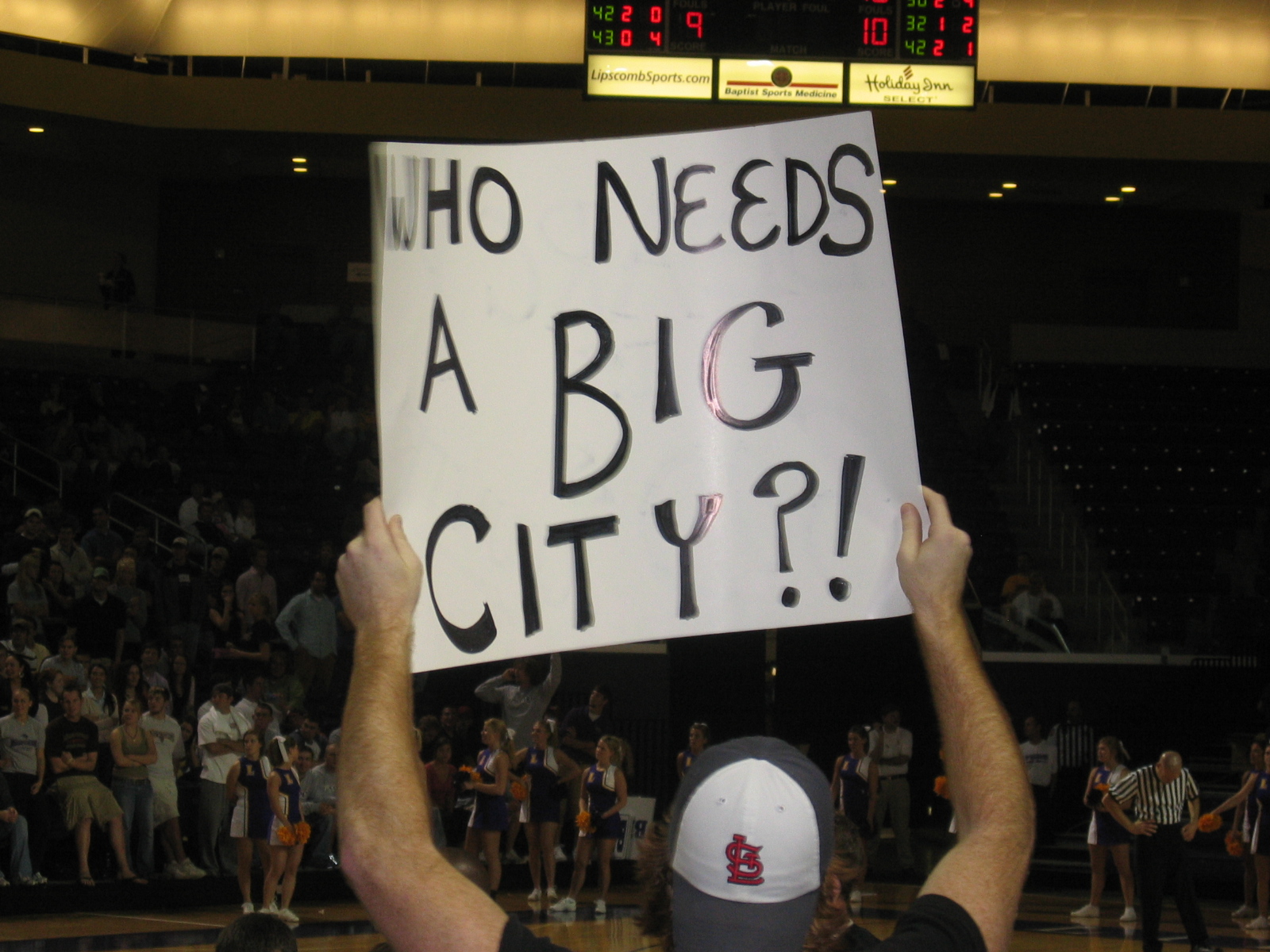 Lipscomb's response? A sign that read:
"Going to Harding is like being homeschooled in the woods."
Oooooo, that really hurts. Obviously, someone has never set foot in Searcy, Arkansas.
During the second half, Harding started heating up. A 19-4 Harding scoring run gave them their first lead of the game, 51-50 on a Reggie Bibb layup. When Harding's Rick Hamilton nailed a trey to give them a 54-51 lead, Lipscomb called a quick timeout, and the Rowdies and sizeable crowd of alumni went completely nuts. Here's a picture of Harding forward Matt Hall scoring on a back-door play during that run: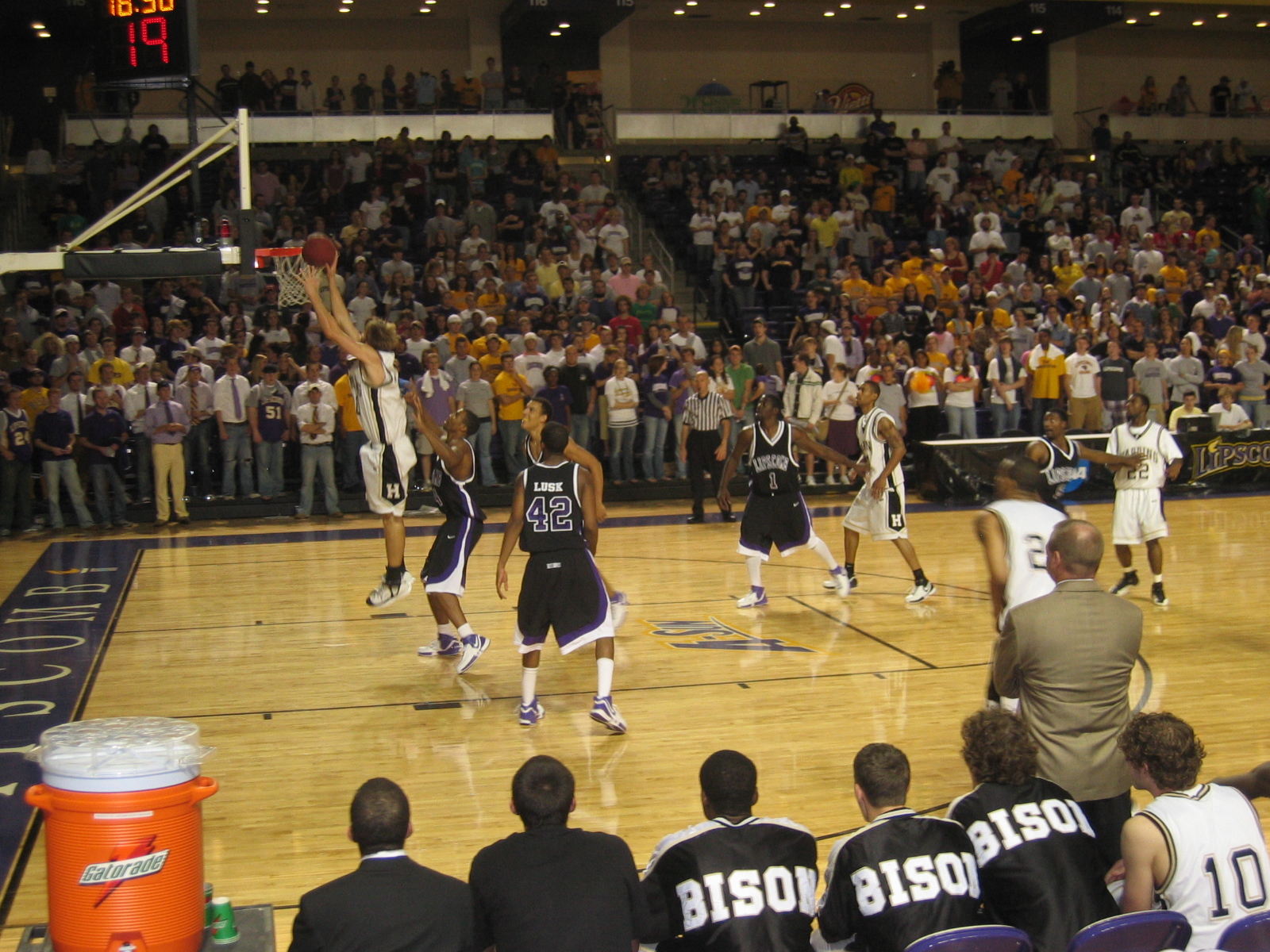 Sensing that it might never get this good again, I grabbed a shot of the scoreboard: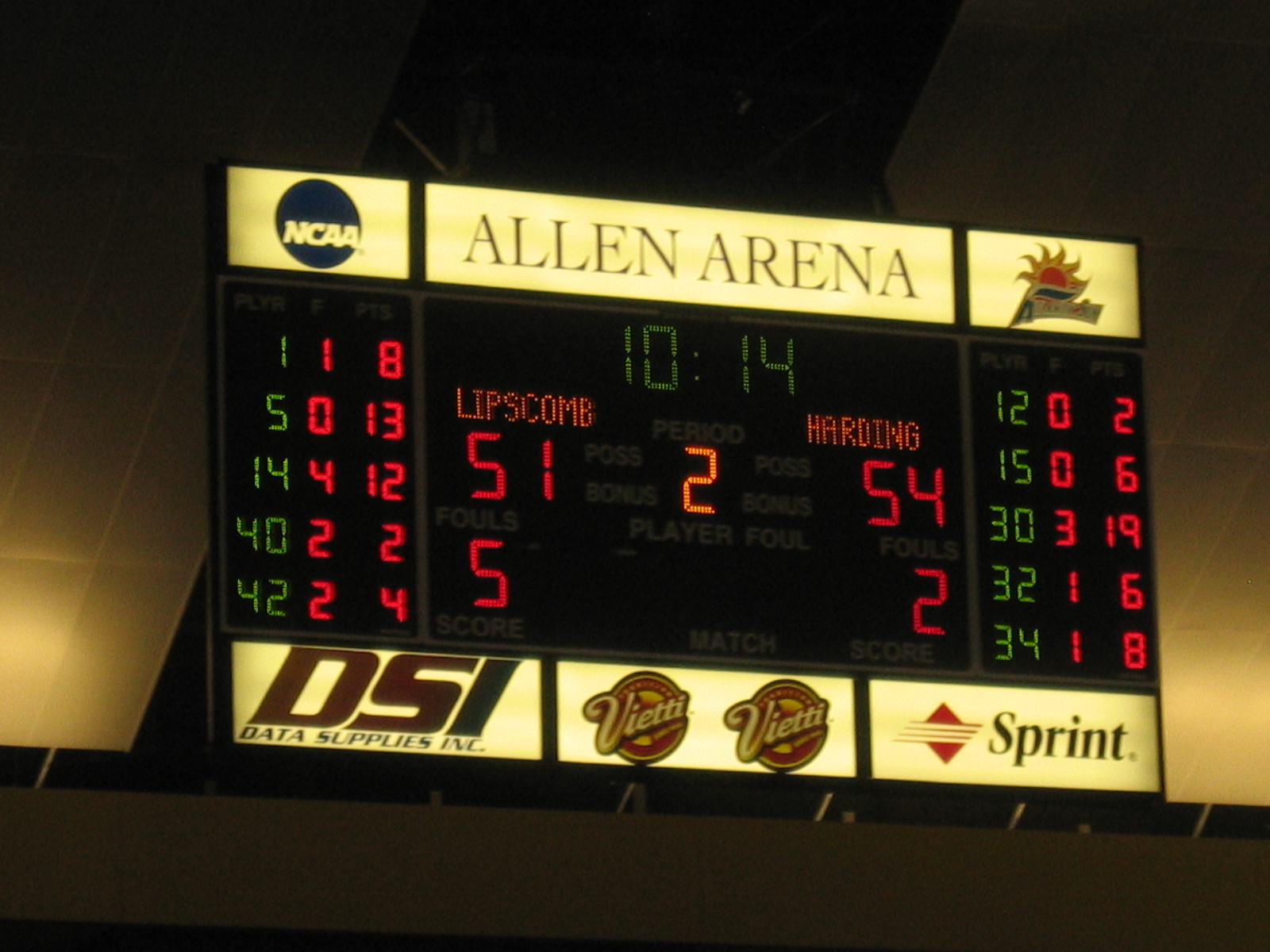 Unfortunately, I was right. D-I talent rose to the top after that, with Lipscomb launching a 29-9 tear over the final eleven minutes, closing things out with an 81-63 victory. Harding junior forward Matt Hall lived up to his preseason All-American billing with 25 points, including a perfect 11-of-11 from the line.
Hey Coach Morgan, let's get Matt some help how 'bout?
A couple of money quotes summed up the evening nicely:
"Harding kept battling. I know why they are picked to win their league. They are very talented. They don't get rattled. They play very poised."

–Lipscomb Coach Scott Sanderson
Thanks Coach. You didn't think we were going to travel all that way and roll over, did you?
And finally these words from a Lipscomb recruiter whispered into the ear of Number One Son prior to the game:
"Here's the deal. If Harding wins, you go there. If Lipscomb wins, you come here."
Yeah right. Nice try, Patrick.
All in all, it was a great evening and a lot of fun. I think it's fair to say that Harding put the fear of, well, Jesus in their D-I cousins. I'm not sure what David Lipscomb and James Harding would say about all this (although I have a feeling), but hopefully they would at least be pleased to know that there was some good fellowship all around.
Hey, Lipscomb, congrats–you guys are pretty good. You can rest assured I'll be rooting for you against Vanderbilt and South Carolina, but frankly, I hope the Crimson Tide beats the snot out of you in Tuscaloosa.
Oh, and one more thing:
We've got football.