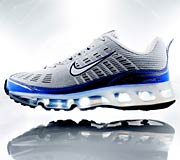 You may not walk on water with the latest and greatest Nike running shoe, but you will be running on a cushion of pure, 100% air. But if you want a pair of the new Nike Air Max 360s set to debut this week, be prepared for some sticker shock–at $160 per pair, pure air doesn't come cheap.
According to a Nike researcher who developed the shoe, "This is about trying to get people to run faster, better and longer and about minimizing the risk of injuries." That sounds good to me, because as I have pointed out before, fast is good. I used to be fast ("Back in '82"), so I know what that feels like and I would like to experience that thrill again.
Minimizing injury risk is also appealing, because at my age I can barely go out to the driveway to fetch the morning paper without pulling something. It might be a little embarrassing to wear these with my bathrobe, but if it means avoiding a pulled groin muscle or another slipped disc, then I'll gladly endure the sneers and jeers of my neighbors and take out the necessary second mortgage to pick up a pair.
What puzzles me is this statement from another Nike official: "This isn't just about core runners. This is about all athletes of all levels of competition and shapes and sizes. Running is the most diplomatic of all activities."
The reason this baffles me is that once again Nike is resorting to its usual tactic of using famous athletes to endorse and promote its product. Now we all know that young and fit folks such as Tom Brady, Alex Rodriguez and Maria Sharapova are going to run fast and perform well regardless of what shoe they're wearing. In fact, they're so good they could get it done with barefeet on hot asphalt if necessary. Admittedly, Maria would look good in the shoes, but then again, she looks good in anything.
No, if Nike really wants to know what their new shoe can do, they should get out in the trenches of middle-age geezerhood and test it on balding, waddling, formerly-fast athletes who have a modicum of disposable income and who are starting to think that pants with elastic waistlines are not such a bad idea after all. This would naturally mean offering endorsement contracts to common athletes such as yours truly. A multi-million dollar endorsement contract (heck, I would settle for a multi-thousand) could improve my life in at least 360 different ways, not the least of which would be the necessary cash to pay for three college educations over the next decade.
If the ad execs at Nike are having a hard time envisioning such a campaign, here is one possible vignette:
I'm nearing the end of a typical Saturday morning run when suddenly I'm passed by a runner wearing the colors of the old Soviet Union. Using some of that fancy computer graphics technology, I'm quickly morphed into my formerly lean and mean self, only now I'm wearing a USA jersey, and of course, a pair of the new Nike Air Max 360s. Friends and neighbors start to appear along the sidewalks of Huntsville chanting "U.S.A., U.S.A.!" I attempt to pass the Russkie and naturally he fouls me with a hard elbow to the ribcage. I stumble, but I don't fall, thanks to the sure footing provided by my Nike Air Max 360s. With the strain of supreme effort and the pride of representing my country clearly evident on my contorted, sweating face, I lean and nip my communist foe at the mailbox in front of my driveway, sending my friends and neighbors into a patriotic frenzy. Suddenly, the reverie evaporates. I glance at my watch, clearly pleased at having broken the 10 minute mile barrier. I pick up the morning paper (without injury) and retreat to my house, humming the "Star Spangled Banner" as I go.
Now, that's the way to market to runners of "all shapes and sizes." If Nike wants any credibility, then they need to pick up a few weekend warriors who would stand to benefit the most from this latest technological breakthrough. I'm not holding my breath waiting for Nike to take my advice, but if there is anyone out there reading this who works for the winged, goddess of victory, I would appreciate it if you would pass this message along to the folks upstairs: Hey Nike, if you ever do decide to ditch multi-million dollar athletes like Tom Brady and go with an Average Joe who suffers from a multi-million aches and pains, then I'm your man!