Special Edition: The Eye of the Storm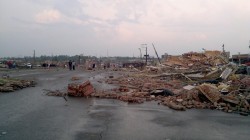 Last Friday, the most powerful man in the world and his wife were walking through the debris-strewn streets of Tuscaloosa, Alabama when they came upon two university students picking through the remains of what had formerly been their apartment. Looking up, the students' eyes widened in surprise as they struggled to mentally digest this extraordinary development.
President Obama stuck out his hand in greeting, and the two students quickly gathered themselves, took off their gloves which were coated with a patina of dust and fiberglass, and held out their own in return. In doing so, they touched the hand that only hours before had been lifted in command, setting into motion events that reaped their own powerful whirlwind in a far distant land.
The students explained to the President and his wife what they had been through, how they had survived and come to be alive on that beautiful, cloudless Friday after an outbreak of killer tornadoes struck the South with a mindless vengeance and fury not seen since Sherman burned his way to the sea. They said, "We're lucky to be alive," and President Obama and First Lady Michelle listened intently as the pair tried in vain to describe the sound of ten freight trains (a single locomotive hardly does it justice) headed hell-bent toward you at breakneck speed.
"You're blessed to be here," the President said. They nodded in assent, their eyes downcast, perhaps wondering a bit if that were true, gazing at the bits of glass, wood splinters and soaked drywall that crumbled beneath their feet, searching for hidden blessings buried somewhere deep beneath the rubble.
Blessed. Lucky. You hear these words a lot in these parts nowadays. No one really knows what to call themselves, though. We're shackled by the manacles of our mother tongue, struggling to define the difference between an intact house and a completely flattened one sitting side-by-side on the same city block.
So please be patient when someone says, "We're blessed" to have survived, or to have lost only possessions, or to not have been affected at all. I don't think anyone intends to imply that the neighbors killed in the flattened house were "cursed." People are just trying to say something, anything, that will come close to telling their stories and doing them justice.
They warned us that things would be "unusually bad," but when you make your life in "Dixie Alley" you wear dire prognostications like old familiar shoes. You hardly think about them, the warning sirens blending into the workaday cacophony, just more static and white noise. You shrug, and maybe if the sky around you looks ominous enough, turn on the TV or check your smart phone just long enough to make sure you're not in the path.
The problem was that there were too many of them, a veritable fusillade of funnel clouds, approaching from various directions with speeds of 6o mph or more. It was the deep, indigo sky in the west around lunchtime that fired the first warning shot and got my attention. A little later, the sirens started to sound, and the sky turned lighter again, and then alternated between shades of dirty gray, green and yellow. We rushed through the afternoon schedule, and I sent my tech home early. I decided to do the same.
As I listened to my car radio, I realized that I was driving straight into the next round and that we lived just east of its projected track. As I pulled into the driveway, I turned toward the southwest and spotted it, a black, swirling smoke monster with multiple tentacles dangling menacingly from its core. It was poorly formed, an infantile F-0 if that, but still strong enough to knock down some good-sized limbs and small trees a few streets over. I snapped a picture with my phone and walked into my house and to my back door where I watched it track northeast toward Monte Sano. There it became slightly more organized, a definite funnel, but still lacking the fury of its cousins to the north and south. Ultimately, all bark and no bite.
I had been hearing all day that Tuscaloosa was potentially in the center of the bull's-eye, and I quickly checked the internet for the latest status. That's when I saw it, the live camera shot of the F-4 killer roaring through the heart of the city. I picked up my phone and called Number One Son. Sometimes he doesn't answer right away, or if he's busy, not at all. This time, much to my relief, he picked up quickly.
"Where are you?" I asked, trying hard, but failing miserably, not to sound like The Nervous Dad.
"At Hans's. I see it. We're about a half mile north. (To Hans) Is that it? Yup, we're looking at it. Dad, the debris; there's tons of it in there!
Next came a long pause. He had gone over to his friend's apartment, knowing that there was an underground parking garage that would make a good shelter, and because that's where he had watched the last Tuscaloosa twister two weeks prior–from the deck most likely, probably sipping a high-density, gourmet beer. He had texted me at the time: "Limbs flying everywhere. It's crazy!"
Finally, he broke the silence. "Dad," he said quietly, his voice a tone of sober I had never heard before, "we're going to get underground now."
"That's a very good idea," I replied. "Do that. Do that right now. Call back when you can."
That was the last of the voice service for a while, but fortunately we were able to text back and forth for several more hours. After the tornado blazed it's trail through Tuscaloosa, razing nearly everything in its path, he and his friends headed toward 15th Street, site of some of the worst damage, in search of friends who lived nearby. Later, he sent me a picture of the once-densely packed district, an apocalyptic landscape filled with flipped cars, scattershot rubble and dazed pedestrians, more Hiroshima now than houndstooth.
Their friends' house was still standing but had been shredded badly. Others nearby were flattened completely. They didn't find their friends immediately, but fortunately they eventually showed up, having taken refuge in the library on campus when they heard the storm coming. Together, they began to sort through debris and go to nearby houses to check on neighbors. Emergency services were still responding and people did the best they could with what they had. It was all hands on deck.
Later, Number One found his quadriplegic roommate back at the dorm (he has been employed as one of his caretakers this year) and got him squared away. Power was out on campus, so he moved him to a friend's house near The Strip that somehow still had electricity. It was an old house, with a porch and narrow front door–not exactly handicapped-friendly. Number One jury-rigged a makeshift ramp, and they slept that night on the porch, my son in his hammock, his charge in his electric wheelchair. The next day, Number One packed up his conversion van and helped him get out of town completely.
His crimson robe and mortarboard, the golden tassel and honors cord, symbols of his collegiate accomplishments, had been all laid out and ready. He had been set to walk the line later this week, but now he stepped gingerly over shards of glass and broken brick. Number One Son was suddenly a magna cum laude college graduate, The University of Alabama, BS Biology, Class of The Tornado. Surreal doesn't even begin to cover it.
I saw it with my own eyes, he texted me later. The Eye of the Storm. There is nothing to match a view like that. It stays burned in your brain forever, like a seal on a diploma, the kind of first-hand knowledge that a thousand professors and all their lectures could never teach.