"Glory Road"–A Little Too Glorified?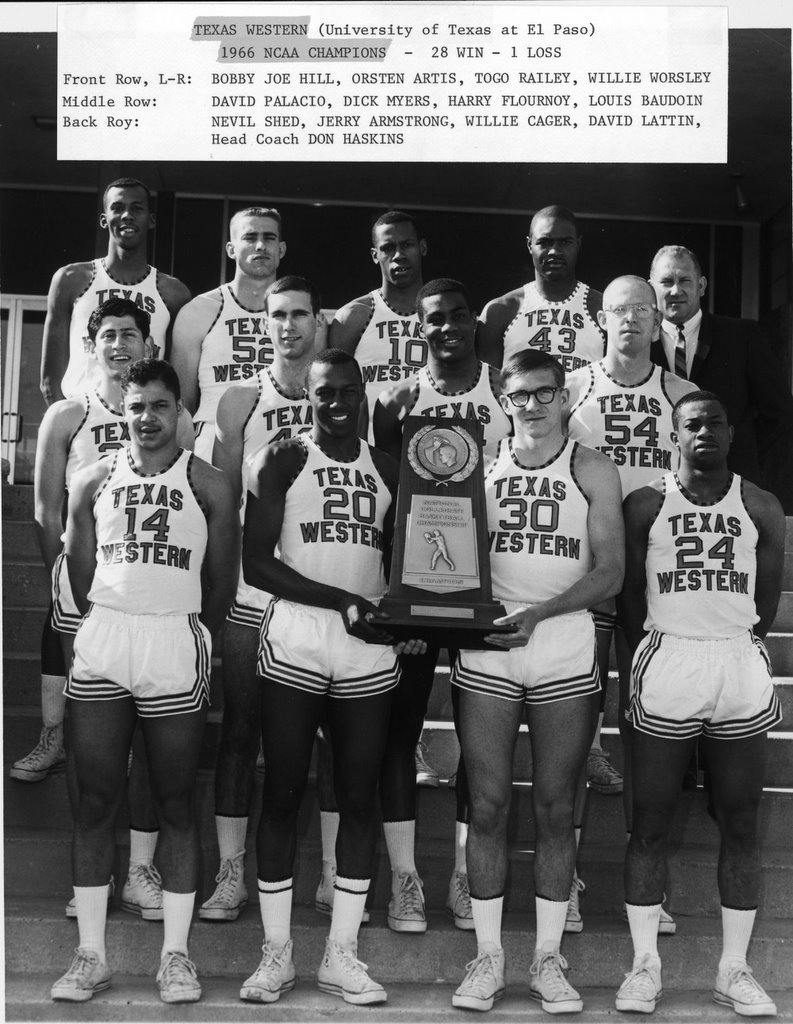 While we're on the subject of "teetering on the edge of falsehood," I thought I would point out George Will's latest column in which he critiques the recently released film "Glory Road." The film relates the story of Coach Don Haskins and his five black starters on the Texas Western basketball team and their victory over the all-white, Adolph Rupp-coached Kentucky Wildcats in the 1966 NCAA Final. Will takes issue with the impression left by the movie that the Texas Western team was the first to feature black players and that the game with Kentucky was a classic "David and Goliath" confrontation (Texas Western was 27-1 and ranked third in the nation going into the final game).
It's true that Haskins was the first to start five black players and that black players were a rarity in the South at the time. But as Will points out, black players had been making an impact on the game at both the collegiate and professional levels for some time prior to the 1966 NCAA championship:
"A decade before the game that supposedly changed basketball, the undefeated 1955-56 University of San Francisco team won the NCAA championship with a team that played four blacks–Bill Russell, K.C. Jones, Hal Perry and Gene Brown.

In 1958 the coaches' All American team was all black–Wilt Chamberlain of Kansas, Oscar Robertson of Cincinnati, Bob Boozer of Kansas State, Guy Rodgers of Temple and Elgin Baylor of Seattle.

In 1962, the University of Cincinnati started four black players when it won the NCAA championship, and Loyola University of Chicago started four when it won in 1963.

Frank Deford, a distinguished writer, covered the Texas Western-Kentucky game for Sports Illustrated and did not mention the fact of five black starters. Neither did the New York Times nor the Washington Post.

Already the ascendancy of blacks in basketball was such that the four best players in the NBA were Chamberlain, Russell, Baylor and Robertson."
Wills goes on to point out that Haskins stated goal at the time was to win, so he started his five best players who happened to be black. This is in contrast to the movie's contention that Haskins started the five blacks "in order to make a social statement."
I love sports movies like "Remember the Titans" and "Miracle," and I'm sure I'll enjoy "Glory Road" as well when I get around to seeing it. However, Will's commentary does serve as a sobering reminder that historical events portrayed through a 21st century camera lens often appear different than they did at the time they actually occurred, and that a little extra salt with that $7 Godzilla-sized tub of popcorn might be in order.