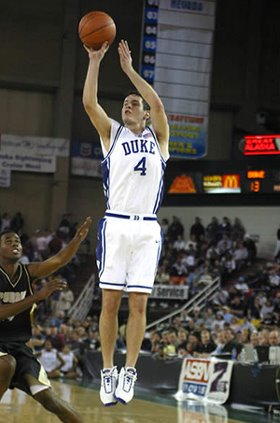 As someone who bleeds Blue Devil Blue, it should come as no surpise that I'm a J.J. Redick watcher. I enjoy watching J.J. pull up just past the center court circle and rain down outrageously long distance rainbows while a bewildered bevy of slack-jawed defenders looks on in wide-eyed awe and disbelief. I like to watch exhausted opponents chase him from sideline to sideline only to have him slip away and knock down yet another twisting, fall-away jumper.
I like watching the newest addition to his repertoire–slashing, cutting drives in the paint resulting in unexpected, acrobatic buckets amid flailing giants who are no match for his feline reflexes and instincts. I like watching J.J. on those frequent occasions when he's double and triple teamed, because these days, more often than not, he's able to dish the rock to an open teammate with laser-like accuracy, resulting in wide open treys, rim rattling dunks and layups as soft as a baby's bottom. I even enjoyed watching "the dunk" against Clemson (although I will admit that I cringed and held my breath).
They would never admit it, but the legions of Duke Haters who hang out at places like this, and this, are also J.J. watchers. Grant it, they watch for reasons other than admiration. Mostly, they furtively rubberneck, hoping, longing, pleading for an air ball or missed free throw, the slightest scowl, mouthed obscenity or erupting pimple. In dimly lit sports bars and living rooms across the land, they stare into their glowing screens for any sign of weakness or corruption that would sully the reputation of a player, who, by the end of his Duke career, will be king among the many princes who have graced the hardwood at Cameron Indoor Stadium.
There is also another group of people who, unfortunately, have been doing their own J.J. watching–his teammates. In a weekend that saw the last of the unbeatens fall in rapid succession, Coach K called out the boys in blue in the post-game press conference following their 87-84 loss to Georgetown. In a remarkably candid critique, he cited their lack of intensity and their tendency to gaze in admiration at their All-American teammate who, despite a steady seranade of profanity from the Georgetown student section, managed to tie his career high of 41 points:
"All of a sudden we do J.J. watching, where we're watching J.J. play. We might as well get tickets and sit behind the bench. And no one is doing anything out there. "

"We were not worthy of our jerseys, our Duke jerseys, in the first half."
Phew, that's gotta sting. But that's probably nothing compared to the burn that the Dukies will feel in their thighs and calves as this point is emphasized repeatedly at this week's practice sessions.
One thing is for sure–to beat a fired up and well-coached team like Georgetown that shoots over 60% from the field, Duke needs more points and better defense in the paint (both NC State and Georgetown used superb spacing and spread offenses to open numerous back doors and drove the lane at will).
To date, Shelden Williams has struggled in big games against formidable competition, and freshman Josh McRoberts, while showing flashes of brilliance, has yet to mature to the point where he can consistently handle the beefy, upperclass giants who loom large on the horizon. The two of them (and the rest of the blue crew) must step up and help J.J. carry the load, and Duke desperately needs a healthy Demarcus Nelson to return and provide a much-needed dose of instant offense and smothering "D."
Duke made a game of it with a stormy comeback, and even though they came up short, playing from behind was a useful exercise that will serve them well on the Road to the Final Four. Now that the hype and pressure of staying unbeaten has been lifted from their shoulders, don't be surprised if the Dukies return to the court with a lighter step and a little more pop and sizzle to their game.
When the Blue Devils are hitting on all cylinders, they are tough to beat. But it will take more than the smooth-stroking senior from Roanoke, Virginia for them to run the gauntlet to their fourth NCAA title. Come April in Indy, I hope to be watching J.J. when he snips the nets and dons his locker room National Championship cap and tee. But in order for that to happen, the Blue Devils need to do a lot less J.J. watching and a lot more minding of basic, basketball "Ps and Qs."