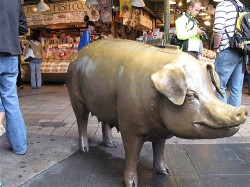 Asheville, North Carolina and Seattle are on opposite sides of the country, but they share an unusual passion worthy of mention, even praise–pig statuary.
It was about this time last year that I spotted a memorial to an Unknown Pig in downtown Asheville on my way to the Duke v. Alabama game. That encounter launched a bacony reverie that stirred up enough favorable ju-ju for a stunning, 4th quarter come-from-behind victory for the Tide over the the Arkansas Razorbacks in Fayetteville the next week.
This year, same song, different sow. Her name is Rachel, and she's a 550 lbs bronzed beauty of a piggy bank who serves as a mascot for the iconic Pike Place Market in downtown Seattle. She stands near the entrance, right by the guys who yell and throw the fish, greeting visitors with her enigmatic, Mona Lisa smile. On her back is a coin slot (all proceeds go to charity), and on her belly are numerous…well, let's just say that while there are no piglets in sight, it's very apparent that she has several.
I must admit the old gal was looking mighty fine, especially considering that close encounter with the taxi cab a while back. I was wearing my Alabama hat, of course, so it was the perfect photo-op. I posed for a couple of shots, petted her on her shiny head, and fed her a little snack. Then I said, "That'll do pig," and moved on.
But I noticed as I walked through the market, no one called out "Roll Tide!" in the manner to which I am accustomed. For the most part, people ignored the script "A" on my ball cap, and those who did seem to stare at it briefly simply turned away.
I thought this odd at first, but then I remembered that I was in Seattle, not Selma. They have the Seahawks and Sounders, not SEC football, the poor souls.
But then I thought, Oh no! What if Rachel put some kind of hex on me? And what if that bad mojo travels across the country to Tuscaloosa in time to adversely affect the outcome of Saturday's game?
I was starting to panic. Spying the original Pike Place Starbucks, I decided to step inside since the smell of coffee always helps me settle down and think straight.
I needn't have worried. As I stepped up to the counter to pay for my pound of Pike Place Special Reserve, the lovely barista eyed my Alabama "A," and with a trace of a Southern accent, called out, "Roll Tide!"
Take that, Rachel! The spell was broken.
I cannot explain to you why these things always happen to me. But in these uncertain times, I will take such pork-tentious signs, along with a side of bacon, and be thankful.
Roll Tide, Roll.