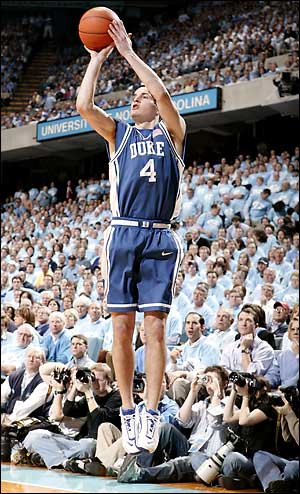 The "J.J. Meter" has been humming as of late. In last night's 93-70 win over Wake Forest, Duke's J.J. Redick scored 33 points (his fourth 30 plus game in a row, a Duke record) and went 4 for 7 from beyond the arc to pass former UVa player Curtis Staples' 413 career treys and become the new NCAA career 3 point marksman. Redick is currently second on the Duke career points list behind his assistant coach Johnny Dawkins and fourth on the ACC list. He now trails all-time leading ACC career scorer Dickie Hemric by 60 points with 5 games remaining in the regular season. Barring anything unusual, he should pass both Dawkins and Hemric to further seal his legacy as one of the greatest to ever grace the hardwood at Cameron Indoor Stadium.
Redick has done a remarkable job of handling the expectations and pressures of his senior year and seems to thrive on the animosity which he generates among the "Duke Haters" across the country. If you're still trying to decide whether to like him or hate him, then I direct you to The Sporting News' Mike DeCourcy's article "Whatta Devil" which makes the case that, contrary to popular opinion, J.J. is not the Antichrist.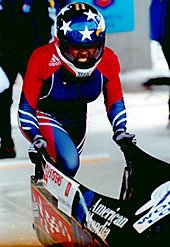 I'm not much of a Winter Olympics fan, but I will be watching with great interest the women's bobsled event later this week. We may not get much snow in Alabama, but did you know that along with Forrest Gump, controversial governors and great football players that we've also turned out a gold medalist bobsledder?
Vonetta Flowers is a graduate of another one of my alma maters, The University of Alabama at Birmingham, and already has an Olympic gold medal in two-person bobsled which she picked up at the 2002 Salt Lake City Games, becoming the first African-American to win a winter event. A former track athlete for the UAB Blazers, Flowers will bring her All-American speed to the narrow, twisting ice of Torino in the hopes of once again striking gold. She's one of the "Yellowhammer State's" classier exports, and we all wish her well.
Go Devils! Go Blazers!
———————————————————————————-
Update: Here is another nice piece from USA Today detailing how Vonetta Flowers balances the roles of world class athlete, wife and mother to twin boys, one of whom is deaf. Hint: She leans hard on her Christian faith.