The Audacity of Resurrection Hope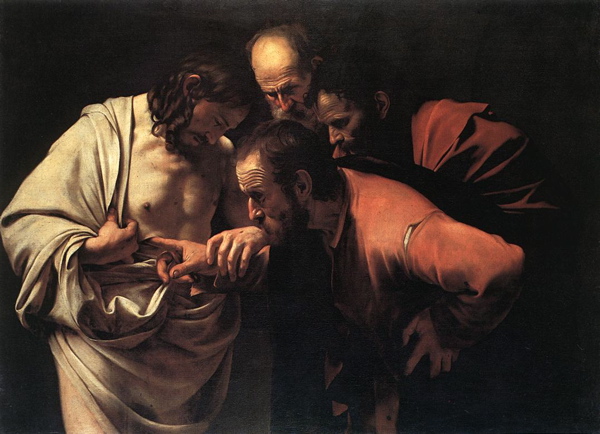 Now Thomas (called Didymus), one of the Twelve, was not with the disciples when Jesus came. So the other disciples told him, "We have seen the Lord!"

But he said to them, "Unless I see the nail marks in his hands and put my finger where the nails were, and put my hand into his side, I will not believe it."

A week later his disciples were in the house again, and Thomas was with them. Though the doors were locked, Jesus came and stood among them and said, "Peace be with you!" Then he said to Thomas, "Put your finger here; see my hands. Reach out your hand and put it into my side. Stop doubting and believe."

Thomas said to him, "My Lord and my God!"

Then Jesus told him, "Because you have seen me, you have believed; blessed are those who have not seen and yet have believed."

–John 20:24-29
Thomas called it right–it was audacious. And I would have been right there with him, saying the same thing.
But in this version of The Incredulity of Thomas by Carravaggio (c. 1601-1602), Thomas is joined by others who seem interested in finding out if those wounds are real. I wonder who these two might be?
I'm guessing the balding guy with the beard is Peter. And I'm wondering if the other one just might be John, although he pretty much hung the "doubting" rap on Thomas alone. Do you really think the others had no doubts, or were they too looking on as Thomas put his finger in Jesus' side and thinking to themselves, Whew, Thank God it's true after all!?

Oh well, I guess the last one standing gets the last word.