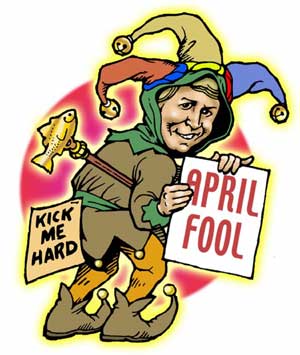 For those of you who may have been wrong-footed by my April Fools gag post on being named the Duke University team optometrist (and sources tell me that there were several of you), don't feel too badly.
You were not alone. If you want to spot these feints a little earlier, then you might want to check this out.
Besides, it's not like I never bought a tall tale or two.
A couple of years ago, my friend Ed wrote a classic April Fools post that I swallowed hook, line and sinker like an eager large mouth bass.
Chariots of Fire is one of my all time favorites, and I wanted so much for that story to be true. Even after I looked at the picture and knew that there was no way on God's green earth that last guy in line was Ed, I continued to march off the cliff like a lemming.
Scroll down to the bottom of that post and read my utterly pathetic comments. As Bugs Bunny would say, well, just listen to it in his words.
I think all of this speaks to the power that narrative has in our lives. Ultimately, we all love a good story, whether it's true or not.
Maybe when you get right down to it, we're all April Fools.