My Olympic Dream Dead? Not So Fast!
For Jim Ryun, his Olympic dream of winning a gold medal went unfulfilled. He failed to qualify for the 1500 meter final in 1964 (he was still in high school, though) and then finished second to Kip Keino in the high altitude air at Mexico City in 1968.
But the most bitter disappointment came in 1972 when he was tripped by another runner in a qualifying heat. Although the judges ruled that he was fouled, the International Olympic Committee (IOC), for reasons still not understood, didn't reinstate him. Dream over.
Still, an Olympic Silver Medal, a world record in the mile and a high school mile record (3:55.3) set in 1965 that stood for 36 years–not too shabby if you ask me.
I'd take it. All I got was a trophy from Ol' Earl.
Ryun went to The University of Kansas, ran in the Olympics and won a medal, went on to a successful career in business and eventually became a U.S. Congressman.
I went to Hardly Harding University, ran the race of my life in a fundraiser event on the school track in front of the lovely ladies of Sigma Phi Mu and became an obscure optometrist in a small Southern city.
Are you picking up on a pattern here?
Eventually, though, our paths would cross. Years later, after the boys were born, I spied a picture of Ryun setting his high school mile record in a runner's magazine.
Inspired, I dropped him a short note at his House of Representatives address telling him how he had been my running role model and that I showed that particular picture to my young sons as an example of what it was like to "give one's all" on the athletic field or in any life endeavor.
I know–gag. It was a real groupie thing to do, but I didn't ask for a thing. Honest. But needless to say, I was thrilled when this arrived in an official looking government envelope a few weeks later: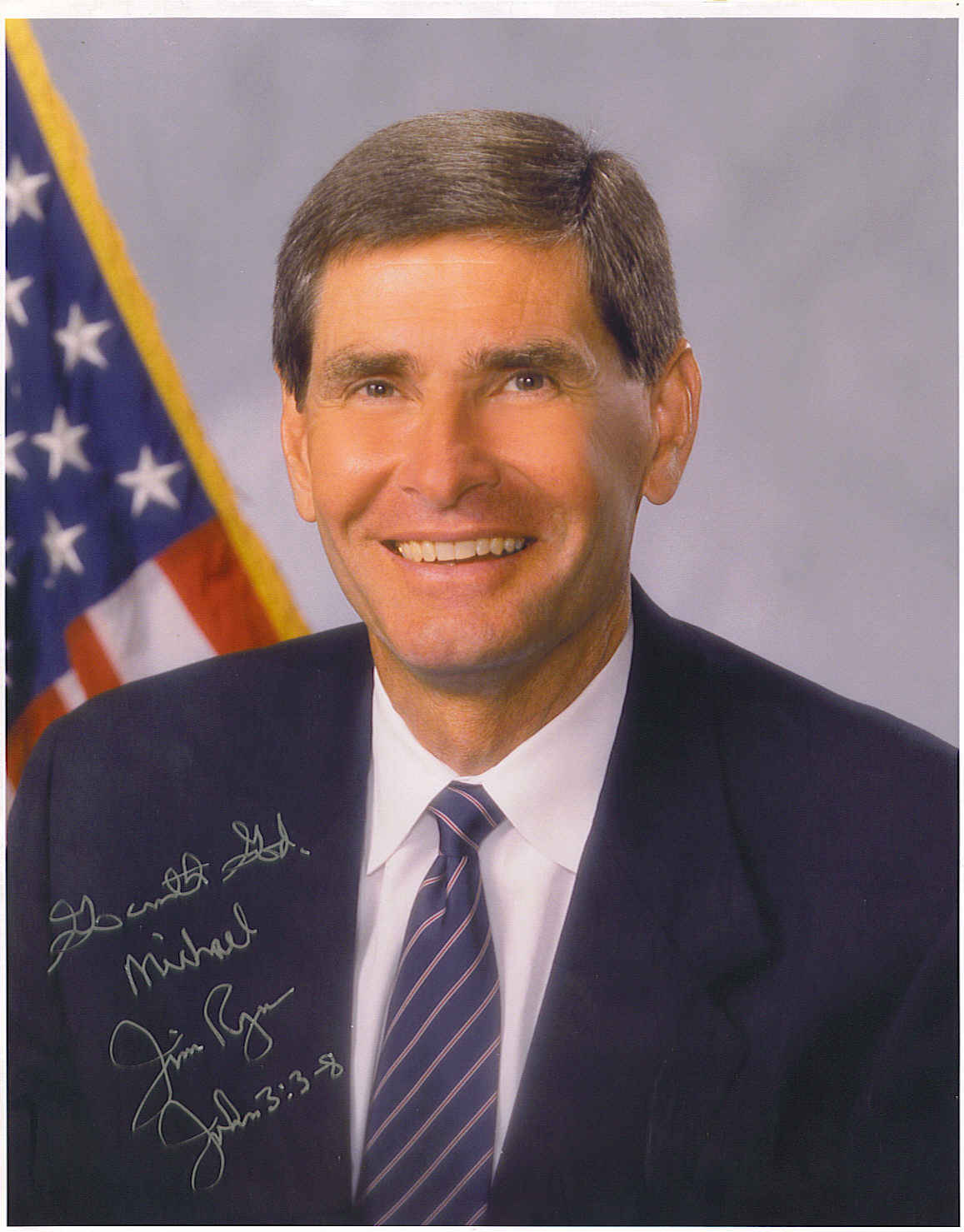 That picture hangs on the wall of my office to this day.
But that wasn't the end of it. A few years ago, Ryun spoke at Hardly Harding, and I drove over to Scarcely Searcy to hear and meet my boyhood hero: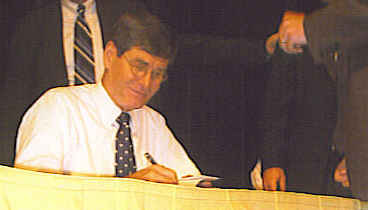 That's him signing his book for me. He's smiling (or is that a smirk?) at something I'm telling him. To find out what we talked about, check my column in The Huntsville Times this coming Sunday.
My Olympic dream dead? Not so fast!