Hairy Mascots and Hurricanes
I'll be headed down to T-town with Number Three Son tomorrow to watch the Crimson Tide take on the Western Kentucky Hilltoppers. My parents-in-law lived in Bowling Green, KY from 1997-2004, so I had the opportunity to watch WKU play many different sports over the years, and I even saw one of their football playoff games in 2002, the year they won the I-AA national championship. It'll be interesting to see what kind of progress they're making as they continue the transition to big boy ball.
I'm all for progress as long as it's not at the Crimson Tide's expense. It shouldn't be that close, but with our still relatively young crew, you never know. Thankfully, Andre Smith will be back anchoring the O-line, so hopefully Tide QB John Parker Wilson won't be feeling the heat as much as he did against Tulane last week.
Too bad it's not a battle of the mascots. If it were, I'd take Big Al over this guy any day: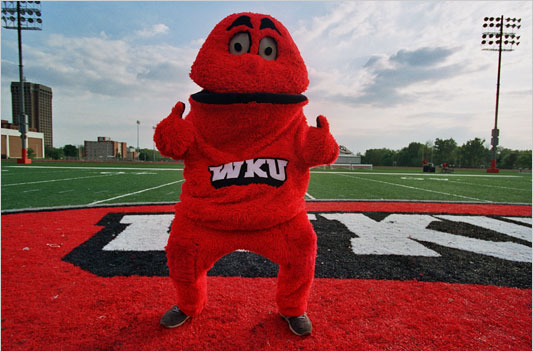 Big Red, one word: Nair.
After the recent attention Clemson Tiger fans (hey y'all, congrats on your win over the Citadel–woo hoo!) gave to my old post "The Greatest Alabama Fan in the World," I decided to do a revised version for my next Huntsville Times community column this coming Sunday. That way, even more people will have the pleasure of meeting my BFF Amanda, the "Jasper Jackhammer."
I don't know if I'll see her this weekend, but I bet I'll be surrounded by several thousand people just like her.
RTR, people. And that includes all you Barners as well.
(And, of course, prayers for everyone in Ike's path, including my brother-in-law Mike and family who live about 20 miles inland from Galveston Bay. We talked to him last night, and they're boarded up and hunkered down. God be with you guys).