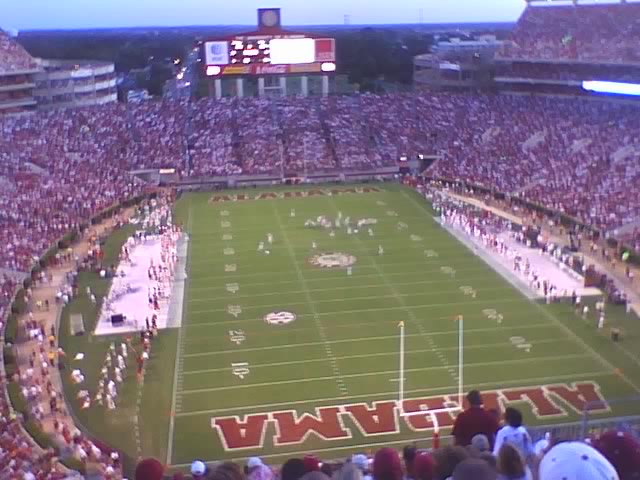 You never know whether Good Bama or Bad Bama is going to show up for a game. We lucked out Saturday night as we watched Good Bama, who had been on vacation against Tulane last week, thrash Western Kentucky 41-7 from our nosebleed seats atop the north end zone. We learned that if you just close your eyes and think cool thoughts, it feels just like you're sitting in one of those fancy-pants air-conditioned skyboxes.
We saw lots of Tide touchdowns from a very balanced run/pass attack (freshman running back Mark Ingram, by the way, is the real deal), and the lone Hilltopper touchdown was the first scored on the defense this year. Although to be fair to the first-stringers, only one or two of them were on the field when that happened as Coach Saban was already going to the bench by as early as midway through the second quarter.
Meanwhile, in baseball, Auburn edged out Mississippi State 3-2. What a barn burner, so to speak, that one must have been.
I didn't see Amanda, but hopefully she's famous now after my community column that appeared in Sunday's Huntsville Times. I'm sure she's fighting off the paparazzi and autograph hounds, just like me.
On to Fayetteville, where perhaps the eternal question will finally be answered: Do pigs really wear lipstick, or is all that red just from a bloody lip?
Good Monday morning, and RTR.