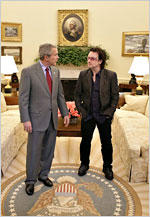 Yet another indication that President Bush may actually care about black people, contrary to what is popularly alleged, has turned up in the news. On Wednesday, the President held a lunchtime tete-a-tete with pop's most famous human rights and AIDS crusader frontman Bono of the megagroup U2. Picking up where they left off at the G8 summit in July, the two discussed various topics including African AIDs relief, malaria control and world poverty.
Never short of chutzpah in the presence of world leaders, Bono has actually been very complimentary of Bush lately. In a Rolling Stone Magazine interview set to hit newstands today,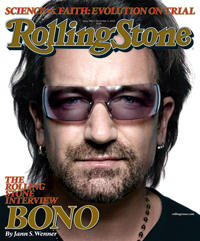 Bono praises the POTUS for his administration's $15 billion dollar outlay for African AIDS relief, much of which is being used to purchase and distribute needed anti-retroviral drugs. This is in contrast to the Clinton administration's $300 million. As you might recall, that disparity was enough to even get Richard Gere's attention.
What an odd pair–a self described evangelical whose "iPod One" is full of George Jones and Alan Jackson, working together with a self-described "loud-mouthed Irish rock star" whose Christian faith is nothing if not unorthodox. Is this a cynical photo-op designed to prop up sagging opinion polls, or perhaps a sign of the "breaking-in" reign of Christ that so many are hoping for? You be the judge.
As for Bono, when it comes to a listening ear for his pleas, maybe he really has found what he's looking for.