There They Are, Send Three!
Then I heard the voice of the Lord saying, "Whom shall I send? And who will go for us?"
And I said, "Here am I. Send me!"

—Isaiah 6:8
Shhhhh! Listen, very closely. Do you hear that sound? What sound you say? Exactly. It's quiet…almost too quiet.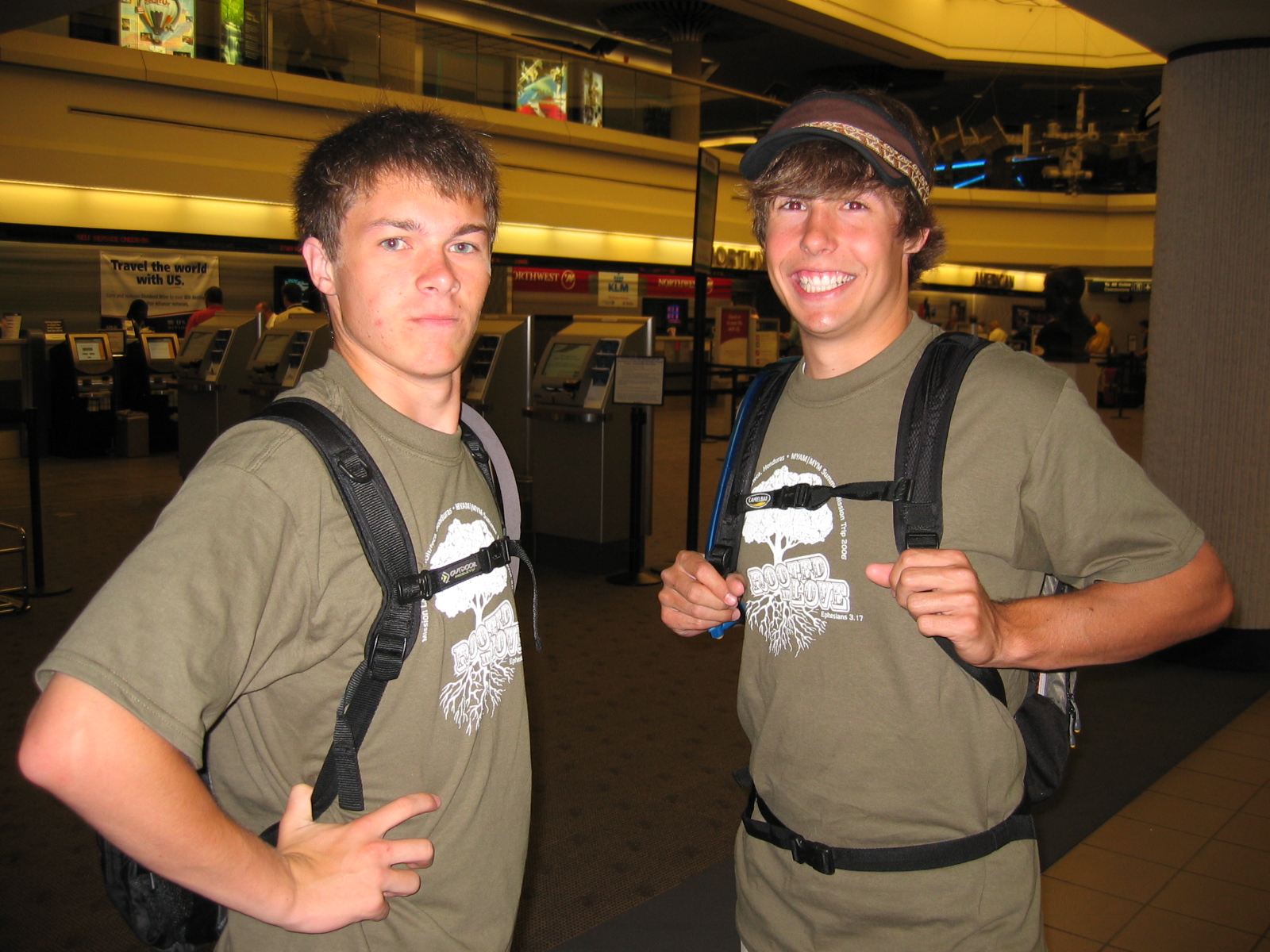 The reason for the resounding silence is the lads are not in the house, having scattered to far-flung places as part of various mission teams sponsored by our church. For Number One son (the one on the left with his "intrepid explorer" face on, next to his friend Chase, the one with the Cheshire Cat grin) this means a trip to the really deep south and the hot and humid environs of Choluteca, Honduras. There he will work with 35 other students and adults to build an addition to a church and conduct a Vacation Bible School for area children. They will be there for a week working along side the full-time missionaries at Mission Lazarus.
For Number One, it's a great opportunity to work up a good sweat in the name of the Lord and to have the kind of eye-opening experience that can only come from a total immersion in a different culture. I think he was looking forward to putting his four years of Spanish to good use and was hoping to get up a game of soccer or two as well. He took some deflated soccer balls in his bag and a couple of pumps for that very purpose. After sharing the joy of the Lord as well as "The Beautiful Game" with the children of Choluteca, he'll leave the soccer balls there and carry back the memories (and hopefully some good pictures, too) of a week well-spent in his summer of 2006.
For Numbers Two and Three, the trip is not so far, but the work no less significant. They traveled a couple of hours up the road to work with the the Nashville Workcamp, a mission project which brings together junior high and high school students from Tennessee and Alabama to work restoring and painting houses. Armed with scrapers, paint brushes and spray bottles, they will descend en masse on inner city Nashville for a week, bringing a smile or two to some residents who will appreciate the home makeover as well as the infectious enthusiasm that can only come from a band of teenagers on a mission.
I'm glad the two of them have a chance to work together in such a worthwhile project, but I confess that I have some selfish reasons for sending them as well. You see, I'm hoping they'll return with some freshly-honed home improvement skills since there's some painting that needs to be done around here as well as a few other projects. Like I always say, "Mission work starts at home." Or I guess in this case, "ends at home."
As if that wasn't enough, later this summer, Number Two and Eyegal will head out for another week with a different mission team to City of Children in Ensenada, Baja, Mexico.
If you're wondering where I am in all this, I'm staying at home this time working like a dog trying to help pay for all this traveling. It ain't cheap, and this will probably be the only summer that we'll ever try to do this much, but we're hoping that the experiences will help instill in the lads a heart for service and for people they aren't accustomed to meeting in their privileged, surburban existence.
As for this week, that leaves just Eyegal, Amazing Gracie the Wonderdog (who is enjoying our undivided attention, but missing the boys already), and me. I guess it's good practice for us since over the next 5 years we'll be sending all three boys out into the world in rapid succession. It's tough letting them go now, and I suspect it will be then as well. But hey, that's the way it's supposed to be, and I'm sure we'll figure out something to do with all that time.
Isaiah said, "Here am I, send me." We said, "There they are, send three." Just send them back a little wiser, a little stronger, and in one piece, ok Lord?