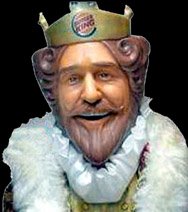 There is much ado about what day it is, you know, that day. And of course, the discussion invariably comes around to who is the Antichrist. A long list of famous people have been nominated over the years, but as I survey the cultural landscape these days, a leading candidate to me is that creepy monarch fronting for the international fast-food chain, Burger King.
There's already been a good expose written on "The King" elsewhere, and many other scary details can be found here. Despite the fact that I rarely eat there (I prefer to receive a month's worth of fat and cholesterol over the course of at least 15 days as opposed to one sitting, thank you very much), I just can't get this guy out of my mind. I really admired the touchdown run against the Rams, but still, the thought of "waking up with the King" is one that just gets stuck in the ol' gray matter like an annoying splinter in your big toe.
A healthy portion of Burger King's success over the years has resulted from clever marketing and memorable jingles. I can still sing most of the words to "Have it Your Way" as well as recite from memory "The Bigger the Burgers the Better the Burgers the Burgers are Bigger at Burger King." As preteens, we discovered that you if try to say that real fast that invariably the phrase will devolve into "bigger and better boogers" at some point, resulting in the highest brand of sophomoric humor.
But now the latest–Manthem. A take off on the 1972 hit single, "I Am Woman," by Helen Reddy, the commercial encourages men to cast off their force-fed "chick food" and instead wolf down a Texas Double Whopper, "like a man." A version is available at You Tube, but a better quality video can be found by going to the Burger King website and then typing in "Commercials" at the top of the page.
I may never sample a Texas Double Whopper, but after watching what that mob did to that minivan, I'm feeling absolutely liberated.
So, on this inauspicious day, indulge in a little sophomoric humor–it's the perfect antidote for antichrists. I bet if Damien tried a Texas Double Whopper, even he would be a little less grumpy and bent on ending the world as we know it.