Why the World Cup Matters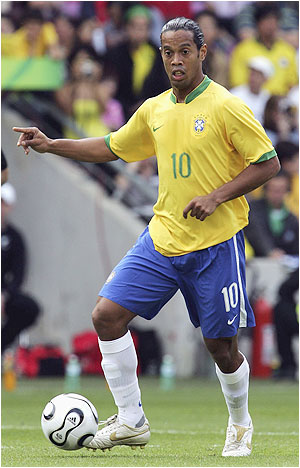 On this the opening day of World Cup 2006, my friend Jason Bybee at Already & Not Yet asks a pertinent question: Does anybody care?
Americans, with their provincial love of "home-grown" sports, high-scoring, slam-bam action and jiggly, twenty-something dancers in next-to-nothing outfits, for the most part have never developed a taste for the nuance and intricacy that enliven the soul of "The Beautiful Game." Jason went on to ask, "What am I missing?"
After counting to ten and taking a short walk, I returned to my keyboard and typed this reply:
It's an aquired taste, and when it comes to taste, most Americans don't have very much.

The rarity of the goals is what makes them special. Unless you have played or coached, it's difficult to understand just how hard it is to score a goal against a well-organized defense and a smart, athletic keeper.

Unless you have ever experienced the tantalizing frustration of near-goals, the ballet of a ball well-possessed from back to front to back and up top again, unless you have ever seen a sliver of space appear for an instant inside the 18, like heaven itself opening up before you, and unless you've witnessed the beauty of a well-struck ball slipping through the left upper 90 like a thread through the eye of a needle, and then the explosion, the pure release of raw energy that is a goal (some have compared it to…you know), then, my friend, you have not experienced true joy.

It is the common language of the world. This week in Honduras, 6 American teenagers took on 6 Honduran youths in their own version of World Cup, played on a field made of donkey dung (USA won). There wasn't a lot of Spanish or English being spoken, but they all understood each other quite well.

This is boring? Compared to what? A game where we all sit around staring at nine guys with grass growing up between their toes waiting for something to happen?

Ole.
Why does the World Cup matter? Because "One Game Changes Everything."