I Hope They Got Their Orange Slices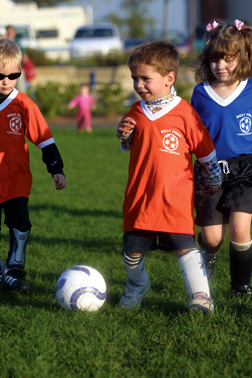 Question: What happens when the US brings its "best team ever" to the pitch to take on the Czech Republic on the world's biggest soccer stage?
Answer: They hand us our "scalp."
"Disappointed" hardly does justice to the mood of US soccer fans across the country this morning as the grizzled, Czech veterans (four starters over the age of 30) utterly dominated and dismantled the Red, White and Blue 3-0 in yesterday's opener for both teams. For you futbol-challenged folks out there, 3-0 is the approximate equivalent of 30-0 in American football, and in this case the match wasn't as close as the score indicated.
The Czechs scored within the first five minutes as a disorganized American defense allowed Czech winger Zdenek Grygera the time and space to find the head of towering 6'7" striker Jan Koller in front of the American goal for a 1-0 lead. With the Americans now on their heels, the Czechs continued to press, winning nearly every 50/50 loose ball and utterly dominating midfield play where matches are typically lost or won. In the 36th minute, Czech attacking midfielder Tomas Rosicky chalked up the first of two goals for the day when he let loose with a wicked, diving and curling strike from 30 plus yards away (with no meaningful US defensive pressure in sight, I might add) which slipped into the right upper 90 past the fingertips of diving US keeper, Kasey Keller.
But it was the third goal that was particularly troublesome to me. Late in the second half, a charging Rosicky received an "eye of the needle" through ball from attacking midfielder Pavel Nedved and was off to the races for his second goal of the day. That ball was threaded through 3 American defenders, one of whom was team captain Claudio Reyna who seemed lethargic as the ball passed within a couple of feet and seemingly close enough that it could have been cleared out with a little extra effort.
It is a defensive midfielder's job to disrupt attacks and to prevent through balls like that. In other words Claudio, it does no good to dump on the younger players on the team as you did in post-game interviews when you're not willing yourself to put in the extra effort needed to make critical plays.
To his credit, Reyna did have the closest American chance of the day when his 20 yard shot clanged off the inside left post in the first half, only to roll harmlessly away. Reyna has not scored a goal for the national team since 2000 (that's right, six years), but he was not solely responsible for the anemic American attack. American stars Landon Donovan and DeMarcus Beasley were nowhere in sight and seemed reluctant to take anybody on 1 v. 1. Only substitute striker Eddie Johnson in the second half provided any shots which were more or less on frame.
Blame is flying fast and furious this morning, and the Yanks have only four days to lick their wounds and try to figure out what went wrong before taking on perennial favorite Italy on Saturday. Note to Bruce Arena: I'm sorry Bruce, but the buck stops on your desk. Your boys were woefully unprepared mentally to take the pitch yesterday and it is your job to make sure they are and that they are armed with some clue of a game plan. Move Donovan from striker to attacking midfielder so that he can get more touches and carry the attack. I thought you learned that lesson years ago?
One can only hope that we will take the field against the Azzurri with "real men," as opposed to the Under-10 rec players who showed up yesterday. But Bruce, if that's what happens again, then please make sure your boys at least get their orange slices and fruit juice after the game.