Loose Connections of My Own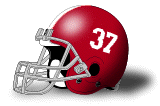 I'm starting to get all worked up about the upcoming college football season. Crisp fall air, golden brown leaves crunching underfoot, and college football on TV from Thursday through Saturday make for an intoxicating brew. I graduated from a college with only a moderately successful football team and have never experienced an honest-to-goodness campus "Game Day," so I don't have as much ego and money tied up in all this as some people do. But as a Virginia expatriate who has lived 17 years in Alabama, I wish to announce that I have finally chosen a side: I do hereby officially declare that I am always, and ever will be, pulling for the Crimson Tide. I'm sure the entire Crimson Nation must be rejoicing to hear that, along with all the Houndstooth-clad angels in heaven.
I pledge allegiance to the Tide in spite of the fact that Auburn has cleaned Alabama's clock four years straight and that Tiger Head Coach Tommy Tuberville is a member of the Church of Christ. I like Alabama Head Coach Mike Shula (I rooted for his dad Don's Dolphins growing up), I like the tradition, and when the Tide does rise again and captures their 13th National Championship (which they undoubtedly will someday…soon…hopefully), then I want to catch the crest of the wave and be able to honestly say that I was there for the entire ride. Bottom line, I tend to gravitate toward teams that have classy individuals at the helm and/or clean-cut, All-American types on their rosters.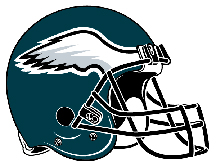 Which brings me to the Philadelphia Eagles. I am not a professional football fan. I never caught Tennessee Titan fever, and despite exciting-to-watch QB Michael Vick, the Falcons have never captured my fancy. But the Philadelphia Eagles have a prime opportunity this year to earn a hard-to-get fan in me if they invite Torrance "Tank" Daniels to join their regular season roster.
Tank was a standout defensive player for my alma mater (Hail!), Harding University and signed as a free agent with the Eagles earlier in the spring. He had an excellent debut against the Raiders the other night, recording 3 tackles from scrimmage and a special team stop. Professional scouts as well as The Philadelphia Inquirer have noticed him, so I'm hoping that Andy Reid and staff will too. If he makes the final cut, he'll be the first Harding player to make a regular season NFL roster.
That would be a good thing, because then we would have caught up with Abilene Christian University who had one of their own playing as a standout NFL running back in the late '70s and early '80s. The team he played for? None other than the Philadelphia Eagles (is there a Church of Christ-Eagles connection? Must be that Isaiah 40:31 thing). His name? You tell me. No free books this time, only my heartfelt congratulations as a fellow sports trivia junkie.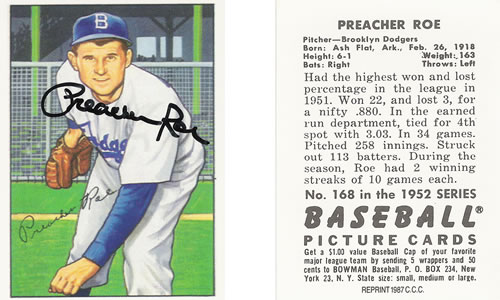 Harding has had some fine athletes over the years, but very few professional ones. We're actually better at turning out preachers. Sometime we do both.
Elwin Charles "Preacher" Roe is no doubt Harding's most famous professional athlete to date. It was a good piece from Ash Flat, Arkansas to "The Show," but Preacher made the long journey and played for the Cardinals, Pirates and Brooklyn Dodgers from 1938-1954. He also appeared in three World Series during that time but unfortunately never captured a ring. His best year was with the Dodgers in 1953; 22-3.
Preacher was a devout man who was nevertheless renowned for his fiestiness (he never shied away from a scrap or two) and salt-of-the-earth sound bites. After being lifted in the early innings of one game, Preacher sagely remarked, "Sometimes you eat the bear, and sometimes the bear eats you." You gotta admit, that's pretty deep–even for a boy from Ash Flat.
Preacher must be alive and still kicking (if not pitching) at the ripe old age of 90, because he actually has a website (I'll let you know if I find his blog). When asked to what he owed his longevity, he quipped, "Clean livin' and the spitball." That's sound advice no matter who you are and what you do.
Because of the work I do, I've learned to speak fluent Southern Fried Geezer, and I'm pretty sure that if Preacher and I ever do meet up (probably not here, but on that Great Diamond in the Sky), that we'll probably get along pretty well. I've never been able to throw a curveball; perhaps with Preacher's help, I'll get my chance in heaven. And maybe a spitter too.
So how does all this tie together? What do Alabama football, Harding, the Philadelphia Eagles and baseball have in common? Well, admittedly not much. But if you're new to my blog and coming here looking for coherence, then you are, as Preacher Roe might say, "barking up the wrong tree." Regular readers, on the other hand, already know that I have a few loose connections of my own.