Getting a Grip: About Mark Ingram's Gloves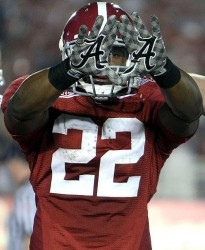 Number One Son and I had just been discussing what could possibly be on the palms of Alabama's new Nike Pro Combat player gloves, and it didn't take us long to find out.
We knew that the Crimson Tide was among several teams that would be receiving the new gear, which featured a particular avatar representing the "spirit" of each team, but Bama's was missing from Nike's preview website.
But when Heisman Trophy-winning tailback Mark Ingram scored his first touchdown in the BCS Title Game against Texas, he flashed the new gloves toward the camera for all the world to see.
Frankly, Scarlett,  they took my breath away.
The background consisted of a subtle, houndstooth-like plaid, symbolic of legendary Alabama football coach Paul "Bear" Bryant. But it was the bold, crimson script "A" emblazoned over the houndstooth that stood out the most. It's the preferred brand symbol of a more progressive, "new Alabama," a distinct wordmark that increasingly adorns everything from license plates, to lanyards, to university shuttle buses, to the top of the school's official stationery.
To me, the message was clear: Honor your roots and remember those on whose shoulders you stand. But at the same time, keep your eyes up and looking forward. Don't become so mired in the past that you can't move ahead toward bigger and better things.
Alabama Head Coach Nick Saban had said as much when he came to Tuscaloosa. Right off  the bat, he made two important promises. First, that he would honor the winning legacy of Bear Bryant and hold on to those things that were good about the past. But at the same time, he vowed to build something new and different, a foundation more fitting for the 21st century.
And there, on the cusp of a new era of Crimson Tide football stood Mark Ingram, holding both those promises in the palm of each hand.
Focusing too acutely on the past sometimes leads us to hate and, like the Hatfields and McCoys, brood over past wrongs whose roots we may have long since forgotten or never even known in the first place. I think that was the case with some of my friends who pull for Tennessee and Auburn. They just couldn't get past the past, flashing me the "Gator Chomp" prior to the SEC Championship and the "Hook 'em Horns" gesture in the weeks leading up to the national title game.
There were notable exceptions, though. Like the nurse at our clinic, a loyal Auburn fan, who yelled "Roll Tide" to me the day of the title game. Others could only offer up a "Go SEC!," but I appreciated it nonetheless. I won't forget that when their time comes.
I don't profess to know all the history behind the rivalries between our schools, and maybe I'm too new a citizen of the Bama Nation to really appreciate it. I do love history and tradition and generally feel we would do well to reflect upon and learn from them. But I consider myself primarily a son of the New South, one who can appreciate and welcome a win–any win–that reflects well on our region and puts us in a positive light.
We need all the help we can get; there are still far too many who, when they think of the South, see nothing but lynchings, police dogs and fire hoses. All that, plus the 2010 Alabama gubernatorial race (may God have mercy on us all).
I hear this a lot from politicians, pundits and preachers these days: We must return to the "The Good Old Days."
But I think it is good to remember, as we peer through the distorting lens of nostalgia, that while the "Good Old Days" might have been good for some, they were not that way for everyone. Ozzie and Harriet may have gotten along fine on TV, but real families struggled then just like they struggle now, albeit more under the radar. People may have been more likely to get up and go to church, but many would prefer not to return to the days when a white man in the South could plausibly be a KKK Imperial Wizard on Saturday night and a Baptist elder come Sunday morning.
As for me, while I love the way the dapper Don Draper dresses, I think we're better off with less smoking, drinking and sexism in the workplace. I also happen to prefer modern day antibiotics.
I follow the cues of another Preacher who said: "Do not say, 'Why were the old days better than these?' For it is not wise to ask such questions."
I'm not sure where all this hankering for the past comes from, but I have some ideas. It might be a hedge, a defense mechanism of sorts, which gives us anchor and solace in the midst of turbulent times. Maybe we just realize we're going to die, and in the face of such existential angst, we simply long for the assurance that the values that we have believed in and the deeds we have done are true and everlasting and have made a difference.
Still, taken to extremes (which a person of God should avoid), it strikes me most of all as the antithesis of holy contentment.
That same Preacher said this regarding balance: "It is good to grasp the one and not let go of the other."
I think in a way Mark Ingram was doing that. Perhaps I should follow his lead.  I have a National Championship cap and t-shirt, but maybe I should order a pair of those gloves, too. They might help me get a better grip on my ophthalmoscope as I attempt to sort the wheat from the chaff and get on with my life.
Roll Tide, Roll.