All Eyes Are On Alabama, And It Feels So Right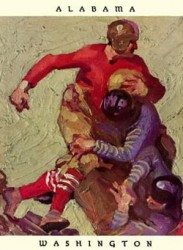 If you're going to stand in line in subfreezing temperatures in order to enter the holy of holies of college basketball, then you'd better know your stuff because every other Cameron Crazie wannabe standing in line with you sure will.
Well, mostly anyway.
When it comes to football, we were a motley crew, united only in our love for Duke basketball. Clemson, LSU, Georgia, Alabama, Penn State and Rutgers were just a few of the schools represented in our little knot of frozen fandom near the front of the line.
Kid Clemson, the guy in the Tiger hoodie in front of me, was a veritable walking encyclopedia of sports statistics. He was rattling off the dimensions of C.J. Spiller's most recent feats and lamenting the future of Clemson football without him. When he found out Number Three and I were from Alabama, he hung his head a little and said, "The day that Alabama beat us last year was the worst day of my life."
I told him that game surprised me a little too, but if that was the worst day he would ever have in his life, then he would likely die a happy man, old and full of contentment. He was probably about nineteen, and I'm not sure he understood the truth of what I was saying, but maybe he will someday.
Talk quickly turned to tonight's National Championship game with Texas, and nearly everyone there agreed that if Alabama plays anywhere near their potential, they would likely walk away with The Crystal Trophy. Not everyone there liked the Crimson Tide, but Number Three and I were accorded instant respect–even from the LSU guy.
"I think Alabama has the best team this year, but I really don't like Saban very much at all," he said.
"That 'betrayal' just cuts too deep, eh?" I smiled and prodded. "Even though he brought you home The Crystal?"
"Yeah, I guess," he said, "but he still has a lot of friends down in Baton Rouge. Truth be told, they'd have him back in an instant if he showed the slightest bit of interest."
Kid Georgia was wearing a Duke hoodie and trying to explain how he could be a Bulldog fan in football season and root for the Blue Devils in basketball. "Look, I like who I like, okay? It doesn't have to make sense to anybody but me."
Amen, I thought, 'nuff said.
A buddy of his turned to me and said, "Hey, he was telling us all about Alabama history on the way up here, how they got their name and mascot and everything."
"Oh really," I smiled, "what did he say?"
"You tell him," he said, turning to Kid Georgia.
"Well," Kid Georgia replied confidently, "it all had to do with a Birmingham trunk company whose symbol was a red elephant. They supplied the player's suitcases when they went to the Rose Bowl for the first time back in the 1920s."
"Not bad, but that's not the whole story," I replied. I then went on to tell them about an Atlanta sportswriter (Everett Strupper) who described the 1930 Rose Bowl winner and National Championship Bama team after watching them play Ole Miss that season:
"At the end of the quarter, the earth started to tremble, there was a distant rumble that continued to grow. Some excited fan in the stands bellowed, 'Hold your horses, the elephants are coming,' and out stamped this Alabama varsity."
The association took, although surprisingly the elephant didn't become the official mascot until 1979 after the Alabama Student Government Association prevailed upon the administration and "Big Al" was born.
I then pointed to the fedora-crowned bust of Wallace Wade which stood less than 100 yards from us over by the football field. "See that statue? That's Wallace Wade. He was head football coach at Alabama the first time they went to the Rose Bowl in 1926 and won their first National Championship over the Washington Huskies. Up until that time, Southern teams had always been deemed unworthy of an appearance at such a prestigious game, but Wade's team was too good to be denied that year."
They were all listening now. Like true Southerners, they loved a good story.
"Sportswriters all over the country lamented that a team from the South had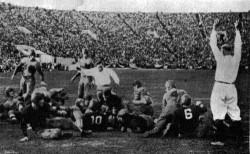 been granted admission. Entertainer Will Rogers called us 'The Tusca-losers.' The Huskies took us lightly, but on the train ride out to California Coach Wade had his boys doing wind sprints and running plays at every stop. It was a hard fought contest, but Alabama won 20-19.
The entire South cheered their vindication, and on the way back, they were besieged by celebrating fans at every stop. Remember when Saban was hired and the airport was packed when he arrived in Tuscaloosa for the first time? It was like that at the train depot when the team returned. There were so many people there to welcome them, it took an hour for the team to travel from the station to downtown, a distance of less than a mile. It was the beginning of many great things for Alabama football."
But I wasn't finished. "See that building?" I asked, pointing to Cameron Indoor Stadium. "After two more trips to the Rose Bowl and two more National Championships, Coach Wade moved to Duke in 1931 where he had a fine record and went to two more Rose Bowls. Legend has it that in 1935 he had a meeting with that guy." I pointed to the bust of former Duke Athletic Director Eddie Cameron which was right next to us.
"Together, they reportedly sketched a rough draft of Cameron Indoor Stadium on a matchbook cover. When Cameron was completed in 1940, it became the largest gym in the country south of the Palestra at the University of Pennsylvania. No one ever found that matchbook cover, but it was a good story, so I guess it just stuck. So you see, there are a lot of connections between this place and the University of Alabama."
Those Sons of the South did indeed see. The Zen of the moment was not lost on them. Kid Clemson was too dumbstruck to say anything and Kid Georgia looked at me like I had just stepped off a flying saucer, took one step back, and whispered, "Whoa."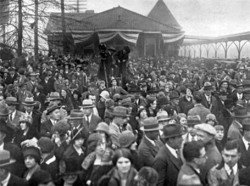 A lot of things have changed in the South since those early days, mostly for the better. But one thing that hasn't changed is our deep love of and fascination with college football. Just like 1926, our boys carry the hopes and aspirations of an entire region on their shoulders. Our eyes are upon them, and win or lose, we will love them and greet them when they return and thank them for a wonderful, wild and thrilling ride.
We want to win. We expect it. It is the order of things, history come full circle.
But the most important thing is that we are back. We are, as they say, "in the conversation." And we will be, I believe, for many years to come.
Once more, all eyes are are on Alabama, and it feels so right.
Roll Tide, Roll.