Signs and Wonders Never Cease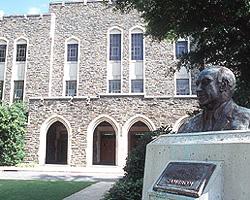 The first time I saw Cameron Indoor Stadium, I walked right past it without even trying to go in. I figured anything that storied and sacred was probably locked. I was seventeen years old and too wet behind the ears to realize that in order to gain entry to the places you wanted to go in life, sometimes all you have to do is walk up to the door and knock.
Instead, I walked over to the tennis courts and watched the men's team practice. It was September 1979, and my father was having coronary bypass surgery at Duke Medical Center on the other end of the quad.  My mind was a jumble of thoughts and emotions, so I had decided to spend some time alone praying and walking off my worry. I also couldn't help but ponder my future and wonder where I would be and what I would be doing come next year.
I played for my high school tennis team at the time, but it took less than a minute to figure out that my future would not include playing at Duke. These guys not only fired off wicked topspin groundstrokes in seemingly endless rallies, but they also called out calculus questions to each other in preparation for the next day's quiz. Such multitasking seemed the province of young gods, not a country boy from the sticks of Virginia.
All the while, I kept glancing over my shoulder at the Gothic, gray-stoned walls of Cameron, wondering if someday I might finally get the chance to go inside.
By May of 2003, I had gained a little more experience and become accustomed to knocking on doors and tugging handles. Sometimes they opened, and sometimes they were locked tight, but I had learned that you didn't get anywhere without at least trying.
I was attending a medical conference at the Duke Eye Center and during a break decided to retrace my 1979 route. I walked by the "Krzyzewskiville"sign, past the bust of former Duke athletic director Eddie Cameron, through the pointed archway and right up to the front door. I pretended to knock and gently pulled. Much to my surprise, it swung wide open.
The lobby is small and tight, like a high school gym, and lined with trophy cases brimming over with black and white portraits of past greats, gleaming hardware from previous campaigns, signed basketballs and frayed nets, snipped from their rims at the end of various red-letter games. On the left side of the lobby there is a short, narrow stairwell leading to the upper level seats and on each side, larger portals leading to the main floor.
I heard shouts and the sound of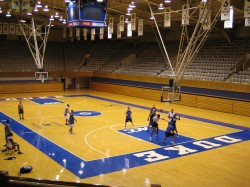 bouncing basketballs coming from inside. I poked my head around the corner, fulling expecting to be bounced out myself, and that's when I saw them: J.J. Redick, Chris Duhon, Sheldon Williams and a host of lesser knowns and friends engaged in a pickup game. Since it was May, the practice was unofficial and there were no coaches present.
But it seemed authentic enough to me.
I made my way up one of the stairwells and found a seat near center court. A few players looked up and saw me from time to time, but they never said a word. I figure they were too involved in their game to care that much, and I guess I didn't look much like a Tarheel spy. They were used to playing before thousands, but maybe that day they were just as appreciative to have an audience of one. I know from my own limited athletic experience that a player always steps up his game and enjoys performing even more when someone is watching.
I sat there for nearly an hour taking it all in. I snapped countless pictures and closed my eyes, trying to imagine the deafening decibels of a real game. Occasionally, I would glance up, slack-jawed, at the three National Championship banners that loomed over Coach K Court like a trinity of towering, stained glass windows.
Come Sunday, I won't even have to pull on the handle. I, along with Number Three Son who has faithfully bled Blue Devil Blue alongside me even during the lean years, will be attending the Duke versus Clemson ACC opener at Cameron. We'll present our two general admission tickets to the nice usher who will then hold the door open for us as we walk right inside.
From there, we'll make our way to Section 17 and take our place among the Cameron Crazies, the ultra-fanatical student partisans famous far and wide for their crazy costumes, constant motion, choreographed chants and creative taunts. Number Three is young and fit, six feet tall, and has grown honest-to-Elvis sideburns. He looks the part of a college student, so he'll probably be able to pull off the ruse.
As for me, maybe the Crazies will think I'm a professional graduate student working on his 10th PhD, or perhaps a young-at-heart professor (one of the cool ones, of course) and accept me as one of their own. I guess I'll just pull my Duke hat down low over my eyes, pack a few extra ibuprofen for my aching back, and hope for the best, that I'll be able to step up and do my part once all the shouting and jumping up and down commences.
Legend has it that Cameron Indoor Stadium was conceived in 1935 on the back of a matchbook cover, the brainchild of the former athletic director and then Duke head football coach, Wallace Wade. Coach Wade had made a name for himself a few years earlier, leading the Alabama Crimson Tide to their first national championship in the 1927 Rose Bowl. Wade went on to win two more before moving to Duke, and his larger-than-life statue now stands in the Walk of Champions leading up to Bryant-Denny Stadium.
It strikes me as more than a little odd that I will be standing in such a curious nexus of Alabama and Duke lore on the cusp of what promises to be a most auspicious week. I'm no natural-born shaman, but if there is any positive, unseen energy that can be harnessed and channeled toward victories for my two favorite teams, then I'm more than willing to temporarily suspend my hardwired skepticism and give it the old college try.
Over the years I've learned the truth of the old biblical wisdom, "Knock and ye shall receive." But I've learned something else too: look around you and behold, for signs and wonders never cease.
Happy New Year. Go Duke. And Roll Tide, Roll.