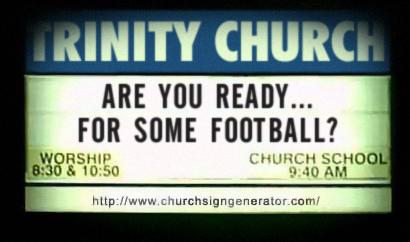 The South is a curious amalgam of fried food and sweet tea, trashy trailer park tragedy, dark gothic tales, hell, fire and brimstone and, of course, the ever-present, all-consuming, life-giving Church of Football.
Oh sure, there's football in other parts of the country, but does anyone else come close to matching the faithful fanaticism of a Deep South Game Day? The Church of Football has it's own liturgy–the parking lot fellowship meal, the processional to the house of worship, the gathering of the congregation, colorful vestments and the common chants and cheers. Touchdowns, of course, are the holiest sacrament, and in the ecstasy of celebrating another six points, congregants, if only for a few transcendent moments, forget their troubles and woes and are transported into high, heavenly places.
For better or worse, The Church of Football predominates the magnolia-dotted Southern landscape during this time of year. Even at real church, football analogy-filled sermons and pigskin banter fill the air, and if one is not careful, talk of yesterday's big game can sometimes overshadow the Savior himself. And as the recent uproar over the MTV reality show "Two-a-Days" amply shows, there is a dark side to football fever that threatens to skew priorities to the point that First Things such as education take a backseat to backfields in motion.
But it's not easy to dismiss the Church of Football as a mere "distraction" or designate it as the source of all of the South's woes and cellar-dweller rankings.Football has sustained the South through some lean times and served as a point of pride when, frankly, there wasn't much else of which to be proud. One has to ask: would things be better without football, minus the community bonds and team spirit engendered beneath the glow of Friday night lights and mixed together in mammoth, concrete and steel bowls on crisp, sunny Saturday afternoons?
I suspect not. Football is a cornerstone of Southern culture and will not so easily pass away. It will remain, no doubt, a font of refreshment and hope for legions of Southerners who don their Saturday best and make the weekly trek to the Church of Football. Until Kingdom Come, there will always be thirsty pilgrims who long to once again sing heavenly hallelujahs and catch a glimpse of a glory train a'comin'–a broad shouldered fullback busting through the line and crossing over into The Promised Land.
———
What's that you say? What about the "scandalous tidbit" you promised?
Ah yes, I was hoping you would ask. Well, here it is, true confession time: I am a closet Notre Dame fan.
I know, it's shameful admitting that I root secretly for the most over-exposed team in college football history, especially considering that I recently pledged allegiance to the Tide, but like many things in life, it's complicated.
It all started in the 1970 Cotton Bowl when Notre Dame's Joe Theismann and his gold-helmeted teammates lost 21-17 to then #1 Texas. That had been The Fighting Irish's first bowl game in 44 years, and for many in America, including an impressionable 9-year-old boy like me, it was their first exposure to the storied traditions at Notre Dame. I remember being enthralled by "The Four Horseman," Knute Rockne, "The Gipper," and let's face it, that fight song of theirs is a real toe-tapper. Of course, as if all that weren't enough, along came Rudy.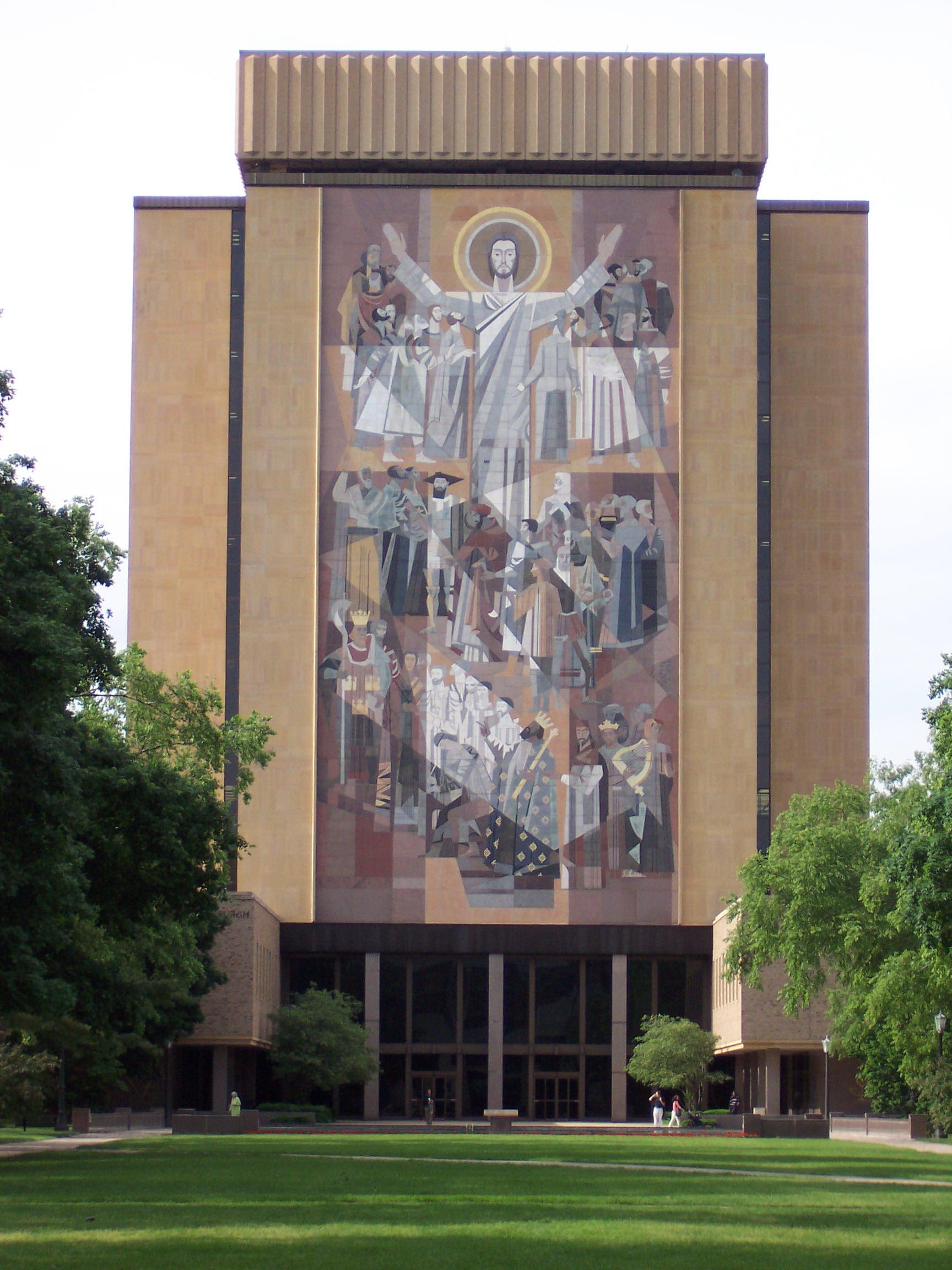 And then there's "Touchdown Jesus," the large mural of the resurrected Savior–arms raised enternally, signaling yet another Irish 6 points–located on the side of Hesburgh Library and within sight of Notre Dame Stadium. If football is truly a church (and I think I've made a compelling case that it is), then one must ask: WTWJRF? (Which Team Would Jesus Root For?).
I think the answer is obvious, don't you?