Bad Boys, Bad Boys, Watcha Gonna Do?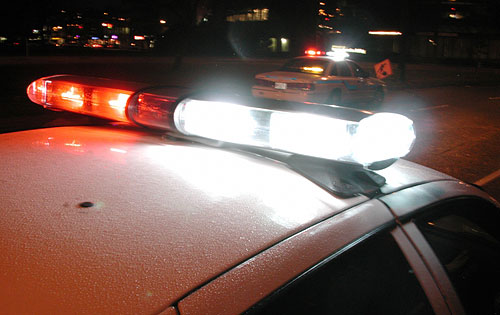 It was half past midnight, and I had just started to dream. About what, I don't remember. I just know that moments before, I had passed through the that warm and hazy tunnel connecting reality to reverie. Shapes and voices were emerging and the jumbled nightly narrative had begun–instructing, soothing or tormenting–it was anybody's guess what shape the storyline would take tonight. And then came the knock.
And then the creak of our bedroom door opening. "H. just got pulled over by the police. He's in front of the house," informed Number Three Son.
H. is a college student, a good friend and a youth ministry major. As I fought my way through the cobwebs and back to the land of the living, I seemed to recall that Number Two Son and his buddy G. had arrived home from a downtown concert a short time before. They are both good friends with H., so he must have stopped by to hang out. Maybe H. had been driving a little fast on his way to our house, I thought.
It was actually a little more complicated than that. Number Two and G. had arrived home, and Eyegal (who is the night owl in the family and is more adept at the late shift) had been satisfied that everyone was in for the night and had gone to bed. But unbeknownst to either of us, H. had stopped by and the three of them had driven a few blocks away to another friend's house to pick up some electronic gizmo or thing-a-ma-jig. It was on their way back that they had run into the long arm of the law.
I stumbled toward the front door and peered outside. It was a scene straight out of Cops: Bubble lights illuminating the neighborhood in pulsating, strobe-like bursts, one of Huntsville's finest, flashlight in hand, interrogating nervous and fidgeting young men whose faces appeared pale and deer-like against the piercing headlamps of a police cruiser. Then the words to the theme song began to play in my head; I just couldn't stop them:
Bad boys, bad boys, watcha gonna do?
As I strained to peer through the window, I suddenly realized that the "bad boy" with whom the officer seemed to be spending the most time was none other than Number Two Son himself. I knew immediately that a great test of my fatherhood was at hand.
I opened the front door, and began to make my way across the front lawn. I remember thinking about how one should approach such a scene and going over my mental checklist: Walk slowly in a nonthreatening manner, hands to the side, palms open, whatever you do, no sudden movements. I doubt that a balding, middle-aged man wearing only a t-shirt and pajama bottoms registered high on his threat meter, but I still approached the officer cautiously and cleared my throat a few times, making sure that he knew I was coming.
"He's my son," I called out, pointing at Number Two.
"Really?" the officer replied tersely. "Then your son is the one who shined that spotlight in my eyes."
I turned toward Number Two, gave him my best furrowed brow and quizzical look, and asked, "Is that true?"
"Yes, but it was an accident," replied Number Two. Then he launched into a longer and more convoluted explanation of how he had discovered the spotlight in the floorboard of H.'s SUV and had just wanted to see how powerful it was and had then turned it on, spotlighting a few houses, mailboxes, and as they had made the turn back onto a main street, apparently, and according to him, "accidently," a police car traveling in the same direction. To make matters worse, H. had not been driving–16-year-old G. had. It was after midnight, and in Alabama, that was against the law as well.
The officer looked directly at me and spoke again. "I was driving along and saw him playing with the light, and when they turned, your son shined the light directly in my eyes."
I put my hands on my hips and glared again at Number Two and shot him my patented "Nice work, Einstein" look. I'm figuring that he probably was playing with the light, that he probably did shine it in the officer's eyes and that it had most likely been an accident, but that didn't matter much at the moment. The officer suspected he had done so intentionally, and he was clearly in charge and running the show. All I could do was make it clear that I agreed with him that this was a serious problem and not argue with him over details.
He was holding all three driver's licenses in his hand and talking to his dispatcher. To hear your son's name called out over a police radio is a little surreal–and very disconcerting, especially somewhere around 1:00 AM. And then I remembered the neighbors. Were they up, witnessing this rare and high drama playing out on our quiet cul-de-sac?
You betcha they were. I glanced around at several houses and saw lights on and several pairs of beady eyes peering from between blinds and the corners of window, just waiting for the cuffs to come out or for someone to make a break for it.
At this point I was hoping that if I could show the officer that I was a responsible Dad–one capable of "handling the situation"–that he would let them go with a warning. My strategy was to continue to glare silently and scowl at the three of them and to only speak and plead for mercy if it appeared he was about to open up his ticket book and start the string of citations.
It must have worked. A moment later, the officer sighed and intoned, "Look guys, that was pretty stupid (I nod vigorously in agreement). It's illegal and dangerous to other drivers to use a spotlight in a moving vehicle. I'm going to let you off with a warning this time, but don't ever do that again."
"Yes sir," the three of them replied in unison.
"Thank you officer," I gratefully added.
Once inside the house, you can imagine what next came next. I exercised my parental prerogative to peel a little plaster and explained to Number Two in easy-to-understand language that he had transgressed in several significant and potentially life-altering ways: Reckless behavior, in a moving car, driven by a 16-year-old, after midnight.
Number Two avoided a ticket and the lock-up that night, but he is currently under house arrest and is wearing a choke collar and a very short leash. The family dog currently has more freedom to move than he does.
But with the passage of time comes perspective, and looking back it's easy to see that things could have been much worse and to be grateful that they weren't. It's even possible to laugh a little at such an outrageous example of group brainlock. Of course, I didn't get much sleep that night, and I don't think I dreamed at all after that. But with a storyline like that, who needs dreams anyway?