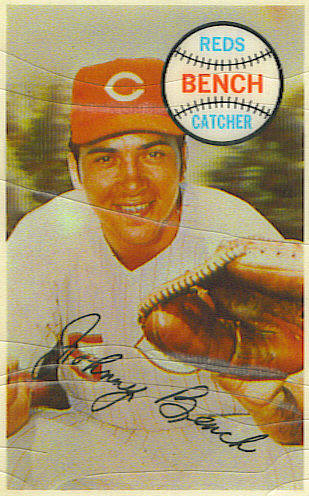 I made clear my citizenship in the Cardinal Nation in yesterday's post. But as we head in to opening night of this year's World Series, I should tell you in the interest of full disclosure that there have been other "cards" in my life.
Growing up in Southwest Virginia, I rooted for a different shade of red–The Big Red Machine of Cincinnati to be precise. This came about as the result of an event that took place one Sunday morning in 1970 on the way to church.
My grandmother used to go to church with us back then, and one Lord's Day she handed me a small card wrapped in thin, nearly transparent paper. It was one of the 3-D baseball cards that could be found in boxes of Kellogg's Corn Flakes back in those days. The player was a very young Johnny Bench, the Hall of Fame Reds catcher who went on to play a key role in four Series appearances and two World Championships for Cincinnati in the 1970s.
I was thrilled, and "Granny" was so pleased with my reaction that she went on to buy a new box of Corn Flakes every week whether she needed them or not. This went on for what seemed like several years. I once looked into her pantry and saw about 100 boxes of open, partially-eaten Corn Flakes. I had always wondered why there were so many cockroaches in her house. Grandmas are among the sweetest of God's creations.
As you can tell, this card has a few cracks in it and its monetary value is no doubt diminished as a result, but it's still Number One in my heart for obvious reasons.
Yes, that's right, I actually have my baseball card collection (as well as NFL and NBA). Unlike many other middle-aged Boomers, I didn't suffer the wound of having my mother throw it away in some whirlwind, cleaning frenzy. She did toss my high school letter jacket in the dumpster ("The moths ate holes in it," she said), but don't even get me started on that. The baseball cards were fortunately spared.
Over the next few days, I plan to post pictures of a few of my favorite cards (Eyegal still has some good ones too). I have some vintage Tigers and Cardinal cards from the late 60s and early 70s that I think you'll enjoy.
I may be rooting for a different kind of card now, but the one that started it all is still the most special.
Go Redbirds!