The Cards got things rolling last night, jumping all over the Tigers for a 7-2 victory in Game One.
The biggest surprise of the night was the stellar pitching of Anthony Reyes who silenced the doubters concerned over his low win total (5), the fewest ever for a Game 1 starter in Series history. Reyes is old school–he wears his socks high and his cap brim flat (the better to see the catcher's signs, he says). With players these days wearing their pant legs so low that it seems like they would trip over them running down the basepaths, Reyes is a blast from the past.
Speaking of which, his retiring of 17 straight batters might also conjure up memories of another previous old school Cardinal hero–Bob Gibson. Gibson was dominating and intimidating in his day–his scowl from the mound was almost as effective as his scorching heater. I thought I had a 3-D card of him as well, but for some reason I couldn't find it. But I did find this one from 1973: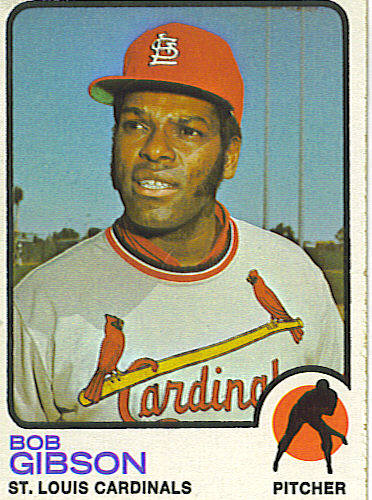 Notice the flat-brimmed cap and nice mutton chops.
If you want to get a better idea of what Gibson looked like in 1968 when he faced the Tigers in the World Series, here's another card from 1975 which depicts previous year's MVPs. On the right is Gibson's 1968 card: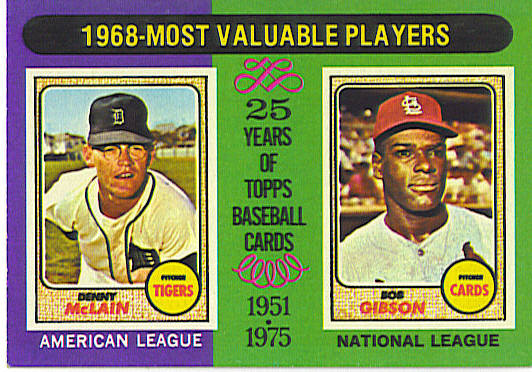 That other guy who looks like your nerdy, know-it-all chemistry lab partner from high school is Denny McLain, who won 31 games in 1968 and was named both AL MVP and Cy Young Award winner. He lost two World Series games to the Cardinals and Bob Gibson that year, but managed to win Game 6, propelling the Tigers into a deciding game which they won.
So what does all this prove? Two things: 1) I have the greatest mom in the world for not throwing away my cards (even if she did toss my letter jacket without removing and saving the letter–arrrgh!) and 2) old school is cool.