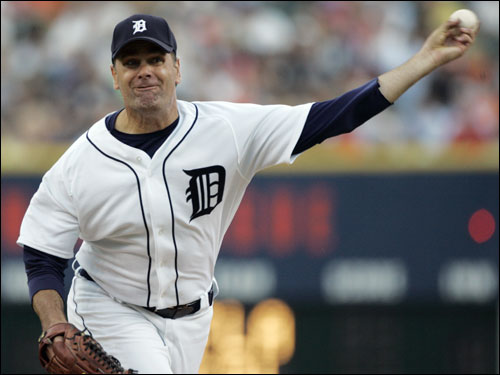 We're heading back to "The Gateway City" for Game 3 of the World Series on Tuesday night. Not surprisingly, the Tigers bounced back last night with a 3-1 victory over the Cardinals behind the strong pitching of 40-something Kenny "The Gambler" Rogers. Normally I like seeing "old guys" performing well on the playing field because it gives me hope, but I don't like it as much when they're wearing the opposite team's uniform.
One thing's for sure: Rogers missed the lesson in kindergarten about washing one's hands before a game. In the first inning, Fox Sports commentators spied a dark spot on the thumb and palm of Roger's left throwing hand. The Cardinals saw it too and brought it to the umpire's attention. Roger's apparently went into the clubhouse and washed his hands and showed up for the second inning spotfree (or almost anyway).
The umpires were satisfied that it was merely dirt and the game went on. It was probably nothing since if you were going to use a "foreign substance" to doctor the ball it seems you would try something that was a little more difficult to see. Still, even after he washed his hands, there was a trace stain visible. Doesn't soap and water usually erase dirt completely? Whatever the case, it sure made for some interesting moments and will no doubt be water cooler fodder in St. Louis today.
Today's featured baseball cards come from the Eyegal collection. St. Louis is considered by many to be the greatest baseball town in the country, and everyone both roots for the Cards and collects cards it seems. Eyegal has many fond memories of collecting cards along with her brothers and attending games at the old Busch Stadium. Everyone who got straight "As" on their report card back then received a free game pass, so she was there often.
To this day, she swears that her brothers either stole or tricked her into trading her best cards. This can't be proven, of course, but the subject always seems to come up when we get together at Thanksgiving and Christmas, with the accusations flowing as fast and furious as the turkey and gravy.
Still, some of the best cards in our album belong to her. Among them are some that I've always liked and don't recall seeing around when I was collecting. In 1969, Fleer Corporation did a commemorative set featuring an animated depiction of all the previous World Series with a Series summary on the back. Here are the two depicting the previous Series matchups between the Tigers and the Cardinals in 1934 and 1968: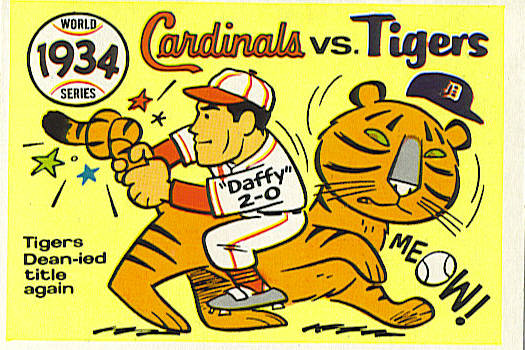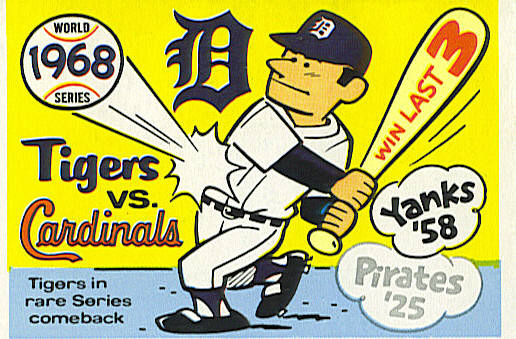 Her brothers may have made off with her Roger Maris and Bob Gibson cards, but somehow she managed to collect nearly every World Series card from 1903-1968.
Eyegal hasn't been back to St. Louis in over 5 years, and I can see it in her eyes that she's overdue for a fix of Ted Drewes Frozen Custard and baseball. Come next spring, meet us in St. Louis–you can find us at the new Busch stadium, watching what we hope will be the defending World Champion St. Louis Cardinals.