"I guess you could say I'm the redemption of the fat man. A guy will be watching me on TV and see that I don't look in any better shape than he is. 'Hey Maude,' he'll holler, 'get a load of this guy and he's a twenty game winner.'"

–Mickey Lolich
Since last January, I've lost almost 40 lbs. I had packed on some weight gain from a combination of middle age sloth and a nearly 3 month bout with bronchitis; when I tipped the scales at just over 200 lbs, my eyes nearly popped out of their sockets.
With some inspiration from my buddy Ed, I discovered ways to change the way I eat (along with how I think about food) plus I increased my weekly running mileage to 25-30 miles a week. It feels great to be back at my ideal weight, and now that I'm no longer a mound of a man, I'm a little lighter on my feet at work as I get up and down the hall during a busy clinic schedule.
I think I have lost a few mph on my speedball, though. You see, baseball is a game that has always had a place for the man of girth–usually either first base or the pitcher's mound.
Mickey Lolich was one pitcher who never met a buffet line that he didn't join. Although he'll most likely never make the Hall of Fame, he did have his day during the 1968 World Series against the Cardinals. That year, he pitched, and won, three complete games, allowing only five total runs (Randy Johnson was the last pitcher to win three games in 2001). Rightfully so, Lolich won the Series MVP award.
After that, Lolich went on to have a couple more twenty win seasons in the early 70s, but in 1975 he lost 18 games with the Tigers. They traded him to the Mets where he proceeded to lose thirteen. He ended his career with the San Diego Padres in 1979.
Here's a look at Lolich from his 1972 3-D Kelloggs card: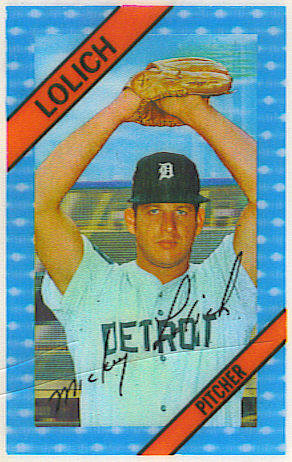 Here he is in 1975, his last year with the Tigers: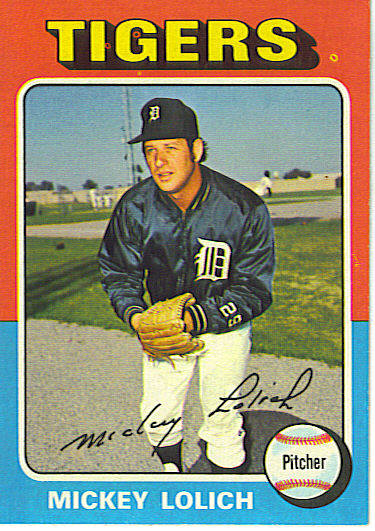 Lolich is only listed at 215 lbs on that last card, which is really not too bad for a 6'0″ frame. In fact, by today's obesity standards, he probably wouldn't even qualify as a "fat man." He probably made a little more over his weight than needed in order to serve up some self-deprecating humor.
I don't know what he weighs now, but I have a feeling he may have packed on a few pounds. You see, after he retired from baseball, Lolich returned to his first love.
He opened up his own donut shop.