Sweet Lou and Mr. Tiger Too
The Cardinals gained a 2-1 game lead in the 2006 World Series last night behind a gem of a pitching performance by Chris Carpenter. The Cardinal ace lived up to his Cy Young Award credentials, tossing a 3-hit shutout for a 5-0 Redbird win. The victory was overdue relief for longsuffering Cardinal fans who had not witnessed a World Series game victory in the Gateway City since Ronald Reagan was president (1987).
Currently, one of the most popular Cardinals player is "Sir Albert" Pujols. Before that, the fan favorite was Ozzie "The Wizard" Smith. Are you picking up on a trend here? Obviously, you can tell you're well-liked if your fans bestow on you an endearing nickname. The charming tradition is as baseball as "foreign substances" on a pitcher's throwing hand, streams of tobacco juice and sanitary hose worn high and tight.
Back in 1968, there was another beloved Cardinal player who was first in the hearts of the Cardinal Nation. "Sweet Lou" Brock was a Hall of Fame outfielder whose speed around the basepaths gave opposing pitchers and catchers apoplectic fits. At one time, "Sweet Lou" held both the Major League career (938) and single season (118) stolen base records, both of which were later eclipsed by Rickey Henderson.
Like many former Cardinal players, Brock remained in St. Louis after his career and is still seen around the ballpark where he is usually greeted by adoring fans with a long and heartfelt, "Louuuuuuuuu!" Living up to his nickname, Brock became a successful businessman–as a florist.
Here is a Brock card from the Eyegal collection, circa 1970: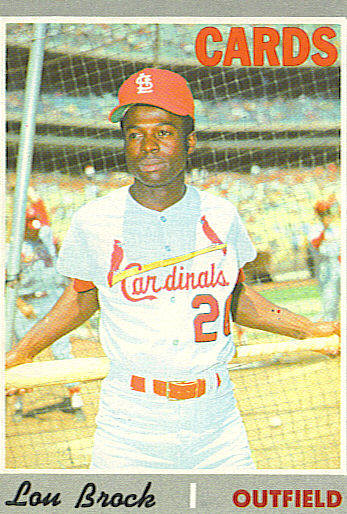 And here's one of mine from 1974, the year he broke the single season SB record: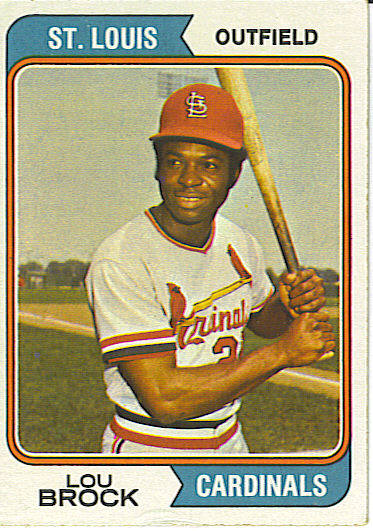 The city of Detroit has had its share of popular athletes over the years, none more so than Al "Mr. Tiger" Kaline. Kaline was nearing the end of his storied career in 1968, but he still played a key role in the Tiger's World Championship that year. Kaline finished his career with 3007 hits, 399 home runs (a Tiger's record) and was elected to the Hall of Fame in 1980. After that, his number (6) was retired by the Tigers. Kaline remained in the Detroit area, serving as a color commentator for Tiger TV broadcasts from 1975-2002.
Here's his card (thanks to Eyegal) from 1969, the season after the Tiger's World Series victory: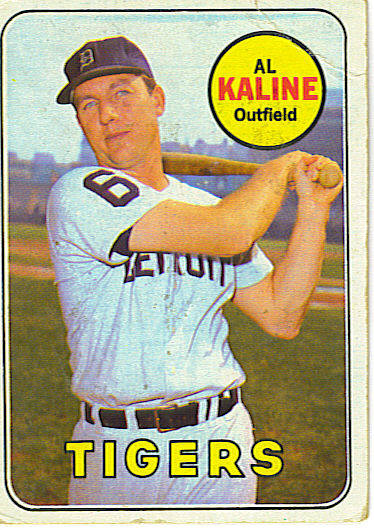 Growing up, I had a nickname too, although I wouldn't dare tell you what it was on this blog. That's why I adopted a cooler nickname–"The Eyeguy"–to make up for all those lost years.
So, what's your nickname? Of, if you choose, what would you like it to be?