Wednesday night's Game Four of the World Series was a rainout. Play will hopefully resume today, which means we'll be listening to the game on the radio, at night, as we travel to Arkansas to visit my alma mater Harding University (Hail!).
I've always enjoyed driving at night and having my pick from seemingly hundreds of radio stations whose signals skip across the lower atmosphere from sea to shining sea. Although my overly visually-stimulated sons would disagree, there's something particularly dramatic and exciting about listening to a baseball game on the radio, especially at night. Without the visual cues, one is left to fill in the gaps, and radio announcers tend to be very expressive and excitable as they call the play-by-play and react histrionically to home runs and 6-4-3 double plays.
Listening to baseball games on the radio at night is old school. And, as you've read here before, old school is most definitely cool.
My blast-from-the-past tour of our baseball card album wouldn't be complete without mention of another team that holds a special place in my heart–the Pittsburgh Pirates. Although I never rooted for the Pirates, Pittsburgh wasn't that far away from Southwest Virginia and there were a fair number of their supporters in my neck of the woods. In addition, Pittsburgh's single-A farm club in those days was the Carolina League's Salem Pirates. I recall going with my dad to Salem's Municipal Field in the late 1960s and early 70s and seeing quite a few future Pittsburgh stars pass through, including outfielder Dave Parker. Here's his 1974 Topps rookie card: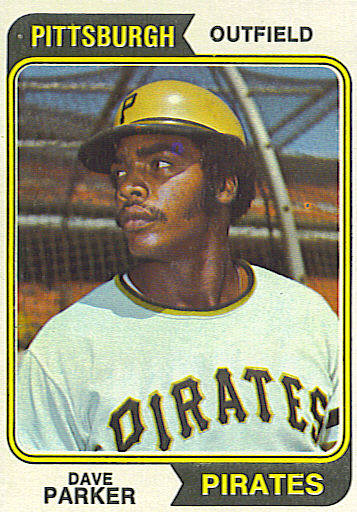 Although Parker has yet to be elected to the Hall of Fame, he did produce numbers that are comparable to other inductees. He went on to play for the Cincinnati and several other teams before finally retiring with the Angels in 1991. He currently owns several Popeye's Fried Chicken franchises in Cincinnati.
But the most beloved Pirate of all time was, without a doubt, Roberto Clemente. Clemente played right field for the Pirates from 1955-1972, had a lifetime batting average of .317, rapped out exactly 3000 hits, was National League MVP in 1966 and a key player on the Pirates 1971 World Series Champion team.
Clemente, a native Puerto Rican, was killed in a plane crash on December 31, 1972 while en route to deliver relief supplies and food to the victims of an earthquake in Nicaragua. His body was never found.
He was elected to the Baseball Hall of Fame posthumously in 1973 in what has been so far the only exception made to the mandatory five-year post-retirement waiting period. In 2002, he was posthumously awarded the Presidential Medal of Freedom, one of the two highest civilian awards in the United States.
Here's a Kelloggs 3-D card of Clemente from 1970:
Eyegal has this one, his Topps Card from 1971, the year the Pirates won the World Series: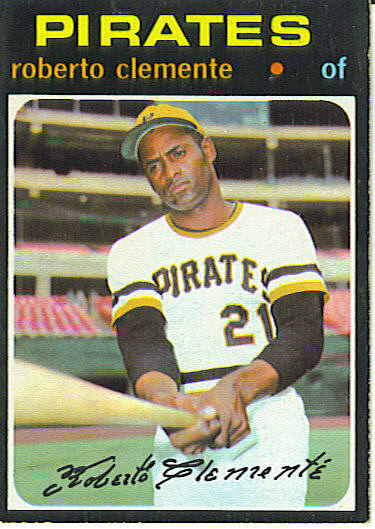 And finally his final Topps card from 1973, the year after he died: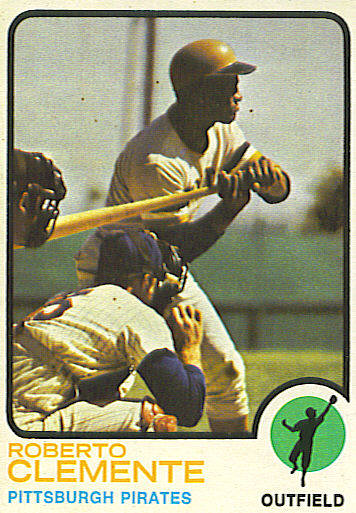 I hope you've enjoyed the peek into our baseball card album. Now back to the real Cards. May it be a weekend to remember.
Go Redbirds!