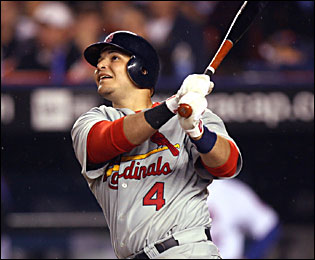 Baseball is one of those sports where King Superstition reigns supreme. Just to prove the point, I've intentionally avoided mentioning baseball and my team, the St. Louis Cardinals, on this blog for fear of jinxing my boys.
The moratorium ends today–Cards win, Cards win, Cards win!
In a dramatic conclusion to game seven of the NLCS, Yadier Molina struck the decisive blow with a 2-run shot in the top of the ninth inning to finally bring down the New York Mets 3-1. After Endy Chavez robbed Scott Rolen of another home run in what will go down as one of the greatest catches in baseball history, and after Albert Pujols failed yet again to produce with men on base, I thought the Cards were done for. But Jeff Suppan pitched his second brilliant game of the series (for which he was awarded MVP) and then the most unlikely of heroes, Molina, stepped up to the plate for his moment in history.
The drama extended to the bottom of the ninth with bases loaded for the Mets and Carlos Beltran, the one person the Cardinal Nation did not want at the plate, contemplating his own rendevzvous with destiny. But Cards reliever Adam Wainwright held fast, and Beltran went down on three pitches, the last one a sharply breaking curve ball for a called third strike.
This sets up a rematch of the 1934 and 1968 World Series between the Cards and the Detroit Tigers. The Cards won in seven games in 1934, and in 1968, behind the stellar pitching of Mickey Lolich (who won three games in the series) the Tigers returned the favor. Now the Tigers, who have played brilliantly for the most of the season and have the benefit of nearly a week of rest, are licking their chops in anticipation of Saturday night's opener. My head tells me that the Tigers will win in five games; my heart tells me Cards in seven. The Tigers will be heavily favored, but like I always say, "on any given day, anything can happen."
We had a great time watching the game last night. Eyegal is a native St. Louisan and we invited her parents over to watch the game. We laughed a lot, ate dessert and drank decaff, groaned, pleaded and cajoled as our Redbirds trudged on toward victory. We talked about Cardinal teams and players from the past (do you think they could clone Bob Gibson?) and the boys asked how I became a Cardinal fan (I pointed at Eyegal and shrugged my shoulders resignedly).
The only one in the house who wasn't rooting for the Cards was Number Three Son, who was still sore about his Yankees losing, so he pulled for the Mets out of spite. Number Three is a master at talking smack, but it wasn't enough to pull his last-minute adopted team through to victory. I suppose he'll be pulling for the Tigers now. But if he wants to come back to the fold, all will be forgiven.
Speaking of forgiveness, did anyone watching the game notice the Great Awakening which broke out in Shea Stadium last night? From about the 5th inning on, the camera kept panning throughout the crowd, showing hundreds of Mets fans with hands folded and eyes turned heavenward in divine supplication. I didn't know there were so many religious people in New York City. If I hadn't known better, I would have swore it was a Billy Graham Revival.
Here's the theological question of the day: Does God care who wins?
Dear God, if you're looking for a team, you know where to find one.
And, in conclusion, another question: Where were you in 1968?
In 1968, I was busy trying to learn the intricacies and politics of 1st grade in Mrs. Witcher's class at Burnt Chimney Elementary School in Burnt Chimney, Virginia. The one thing I learned very quickly about first grade was that if you're going take a nap on one of those little red and blue mats, you'd better keep one eye open and watch your back–or more precisely, backside.
You see, one day I was napping blissfully when Mrs Witcher spotted a horsefly landing on my cute little first grader rump. Grabbing the flyswatter from her desk, she proceeded to swat the horsefly, and by virture of my proximity, me, until the insect was dead, dead, dead. Needless to say, despite her apologies and insistence otherwise, I thought that I had been unjustly attacked and proceeded to have one of my patented emotional meltdowns. I guess I should have been thankful that she didn't use the paddle with the holes in it (less wind resistance) which she kept in her desk. If she had pulled a stunt like that today, I'm betting she would be doing 5-10 in the state pen.
So, where were you in 1968?
Just for your information, the first person who chimes in with a chirpy, "Well, I wasn't even born in 1968," will be forthwith banned from this blog.