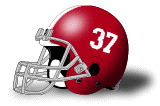 So which do you think Alabama Crimson Tide place kicker Jamie Christensen would have preferred–a picturesque, high-arching, 60 plus yarder which sailed just inches outside the left upright, or a twisted, ugly-as-sin, 45 yard knuckleball job which squeaked through the left lower 90 by the hair of it's "chinny chin chin?" Well, duh! For Christensen, his teammates and the longsuffering Bama Nation, the answer is a no-brainer–"ugly is as ugly does!"
Christensen's winning field goal with 5 seconds left in the 4th quarter gave the Crimson Tide a 13-10 win over the hard-fighting Red Raiders from Texas Tech in Monday's Cotton Bowl. His kick will surely go down as one of the most asthetically agonizing of all time, but it seemed a fitting conclusion for a team which relied on stellar defense to compensate for an anemic offense crippled by the loss of sparkplug receiver Tyrone Prothro earlier in the season. Nothing glamorous or sexy here, just effective.
Bama's triumph is also proof postive that nice guys don't always finish last. Head Coach Mike Shula is a class act (just like famous father Don) who inherited a nearly impossible situation three seasons ago following the near implosion of the Crimson Tide program. He has increased Bama's win total from 4 to 6 to this year's 10 wins over his first three seasons (can anyone say "contract extension?"). He still must figure out the secret to taming the Auburn Tigers consistently to earn his place in Bama's pantheon of greats, but he seems well on his way. A victory in a major Bowl game will draw even more top recruits Shula's way and increase the prospects of that first Iron Bowl win and more New Year's Day delights in the future. Surely "Bear" Bryant is adjusting his houndstooth hat and grinning somewhere up in that great gridiron in the sky.
With Virginia and Virginia Tech both posting impressive come-from-behind wins in their respective bowls and Duke's thrashing of supposed "giant slayer" Bucknell in college basketball, it was a very good sports New Year for yours truly. Now if I can just eat better, encourage my sons more rather than criticizing them, pray more deeply, romance my wife more regularly, run another marathon and read the Bible through in 365 days, I'll be good to go.
Chances are my attempts to reach that level of resoluteness will fall short and at times appear downright "ugly." But just when I feel ready to give up, I'll recall Jamie Christensen's dying quail of a field goal and remember that even an "ugly" attempt is sometimes good enough.