The Song That Nobody Knows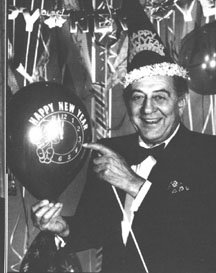 Even if you're like me and your New Year's Eve revelry consisted merely of watching TV as the ball dropped in Times Square and then promptly hitting the sack, chances are you at least heard "the song that nobody knows." If you rang in the New Year at a party then perhaps you even sang it–or tried to. You see, most people don't know the lyrics to Auld Lang Syne , or if they do, they typically have no idea what they're singing. Often people, in the fashion of a mondegreen, sing something like "old lang's sign," or else resort to the "nah, nah, nah, nah, nah, nah, nah, nah," that we all fall back on when we forget (or never knew) the lyrics to a song.
Auld Lang Syne was first published in the Scots language by 18th century Scottish poet Robert Burns. However, he was quick to point out that the lyrics were based on earlier Scottish ballads from "olden times." In his words, he "took it down from an old man's singing." The phrase literally translates to "old long since" but is best translated as "times gone by." The word syne is pronounced like the English word sign, not zine like most people do. Originally, the song was sung on the Scottish New Year's Eve known as Hogmanay. Later it became popular elsewhere, including the United States, largely due to the influence of bandleader Guy Lombardo who began playing it during his famous New Year's Eve radio broadcasts beginning in 1929.
Since then it has become a popular tune for funerals, graduations, military ceremonies, national anthems and even college fight songs (The University of Virginia's The Good Old Song). But why should lyrics such as these be considered apropos as we stand on the cusp of a New Year with its promise of a "fresh start" and new beginnings?
Should auld acquaintance be forgot,
And never brought to mind?
Should auld acquaintance be forgot,
And days of auld lang syne.For auld lang syne, my dear.
For auld lang syne,
We'll take a cup of kindness yet,
For auld lang syne.
To me, this is one of those paradoxes that are really catching my eye these days. Yes, 2006 with all its personal resolutions does hold the promise of a fresh start, but at the same time let's not forget where we've come from and those on whose shoulders we stand. We arrived at this moment thanks to people, places and events–some good and some bad–that have shaped us and enabled us to make it this far. It is to such "olden" influences that we raise a cup in honor and remembrance prior to stepping forth into the New Year.
If you've read my blog lately, you already know about some of those people, places and events in my life. I would bet that you have a few of your own. So go ahead and have your own personal auld lang syne moment before getting to work on those New Year's resolutions. Now that you know "the song that nobody knows," you can even belt out the lyrics without resorting to mondegreens and "nah, nah, nahs."