Three Lessons I Learned At Central High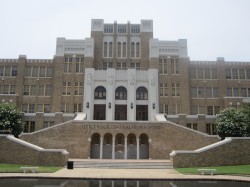 Last week, I returned to high school.
Fortunately, nobody had rescinded my diploma. Neither had I landed in one of those fish-out-of-water, "impotence" dreams where the hapless, middle-age man, who has long since forgotten the difference between a sine and cosine, is thrown into an advanced geometry class full of National Merit Scholars.
Instead, I visited Little Rock Central High School in Arkansas, where nine black students, aka the "Little Rock Nine," dared to enter her shiny portals of learning in September, 1957, thereby ending ending racial segregation in Little Rock public schools. They were blocked on the first attempt by Arkansas National Guardsmen acting under orders of Governor Orval Faubus who had sworn not to allow the black students to enroll. President Eisenhower intervened, and the Nine briefly entered the school, only to be removed a short time later when the mob gathered outside grew more unruly and threatened to riot.
After watching a black reporter, who was a World War II veteran, savagely beaten by a mob of white men outside the school, President Eisenhower had had enough. For the first time since Reconstruction, a U.S. President sent Federal troops into the South, and the Little Rock Nine entered the school again, this time escorted by a large contingent of the 101st Airborne carrying M-1 carbines tipped with bayonets.
The Little Rock Nine stayed. But each new day was a fresh fight for survival. For the entire year, they were continually insulted, pelted with rocks, and rudely awakened by late night, threatening phone calls. But their steadfastness and bravery in the face of cruelty and bigotry set the bar for many similar civil rights battles to come.
I parked near the National Park Service visitor center and walked across Daisy L. Gates Bates Drive (named after the local NAACP leader who led the integration effort). Unlike 1957, there were no mobs, troops or students, but it didn't take much imagination to still feel their presence. The streets were nearly empty, with few daring to take on the midday heat which smothered like a heavy, wet blanket.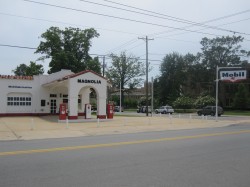 A restored Magnolia/Mobil station (built in 1927, the same year as the school) that had served as student hangout and "office" for reporters during the desegregation crisis was on the left. I have bare memories of full service filling stations,  and I halfway expected to see a quartet of smiling, spic-and-span attendants appear at any second and offer to clean my windshield, check my oil and tire pressure, and to "fill 'er up!"
Central High takes up two city blocks, and as I approached the corner of Bates and South Park Street, I looked left and saw the tip of one of its broad, arching wings. But it wasn't until I walked further south on Park Street and centered myself directly in front of the entrance that I was able to appreciate its classic Gothic and Art Deco design and imposing size. They just don't build 'em like that anymore!
Somewhere on campus, a bell rang. Class was now in session.
Lesson 1: Size Matters
A reflecting pool surrounded by nine stone benches, each dedicated to one of the Little Rock Nine, was located below the main entrance. I sat on Elizabeth Eckford's seat and stared up at the towering brick facade and the steep dual staircases leading up to three arched doors. Above the three doors were four stone figures, Greek in appearance, representing Ambition, Personality, Opportunity and Preparation. The Little Rock Nine possessed all of those qualities in abundance–plus good old-fashioned guts.
I looked for gargoyles but saw none. In 1957, there were many; the flesh-and-blood kind with hearts of stone, their faces twisted into grotesque expressions of hate and misunderstanding.
Dwarfed by its size, I gained a new appreciation for how hard it must have been for the black students to muster up the courage to go inside as they faced screaming mobs, jeering classmates, and a monster of a building that threatened to swallow them whole, like children in the belly of a great white whale.
The building was large, but the courage of the Little Rock Nine larger still. Their extraordinary composure under fire dwarfed imposing man-made structures and sinister systems such as segregation. In the end, they rose above Central High and towered over it, reducing its imposing mass and rendering it more a one room schoolhouse than a medieval fortress.
Lesson 2: Not All Whites Thought Alike
There were many interesting and informative interactive exhibits in the visitor center, and I spent some time at just about all of them. I heard the individual stories of the Little Rock Nine, as well as those who opposed them.
What was surprising to me, though, was the number of whites, both students and adults, who had reached out to the black students during that time and offered support. They were far outnumbered by the haters, but they were still there, leaving behind their own legacies. Many of them were targeted for the same harsh treatment as the Little Rock Nine, including jeers, social isolation and late night threatening phone calls.
Many times we read and hear the history of the Civil Rights era and get the impression that the only whites who supported blacks were "outside agitators" from the North who came down to stir the pot. But there were many Southern whites who dared to speak out, and reach out, to their black friends and neighbors. Their stories deserve to be told, too. To support the rights of blacks at that time was to put your future prospects–even your life–in serious jeopardy.
Lesson 3: Christians aren't always the most decent people around
If Christians actually took their Bible seriously rather than using it as a proof text to hammer home some prejudiced, predetermined point, they might be, but they're often not.
That seems obvious to anyone who pays attention, but my visit to Central High brought home the lesson even more. In Central High in those days there was a chapel where students could gather prior to the first bell for a few moments of quiet contemplation and prayer. It was open to all, Catholics, Jews, Protestants–even the Little Rock Nine.
After running the gauntlet of jeers from their peers who often lined the imposing front steps to "greet" their arrival each morning, many of the Little Rock Nine sought and received sanctuary within its walls. Even classmates who might have taunted the Nine moments earlier left them alone in chapel.
Jefferson Thomas, one of the Nine, told the story of one young white man who became one of his best friends. "He was so nice, I couldn't believe he was white!" Thomas joked.
His friend had no fear, and unlike some of the whites who were sympathetic with his plight but still wanted to keep a safe distance, he was not afraid to be seen with Jefferson, at school or on the street walking past a potentially dangerous mob. One day, Jefferson was on his way to early morning chapel and his friend was with him. "Come with me!" Jefferson said.
"Oh, I'm not going in there," his friend replied. "I can't. I don't believe in God."
Jefferson was stunned. Years later, he recalled, "At the time it blew my mind. So now I learn that not only is he white, but he's an atheist as well. Yet he was the nicest person I knew. That lesson has stuck with me through the years."
Christians should be the boldest, the most humane and decent people walking around, but they're often not. People of faith should consider Jefferson's story and take it to heart.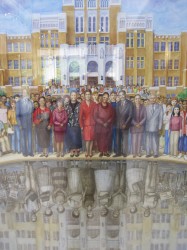 Later, I checked out the gift shop, and naturally, found a few items that I just couldn't do without. Earlier, I had spied a stunning "then and now" painting depicting the Little Rock Nine that had been commissioned for the 50th anniversary commemoration in 2007. The young black students from 1957 are seen as reflections in the pool in front of the school. The Nine as they appeared in 2007, surrounded by a rainbow of students and supporters from that day, are depicted just above.
I had almost completed my transaction when I looked behind the counter and saw that they had a print of that painting available for purchase. I pointed toward one and told the park ranger, "Throw one of those in there too, please." He smiled and gladly complied.
As I drove away, I considered the lessons of the day and what I had learned. I remembered a recent picture that I had seen of a gaggle of powerful white men, Alabama politicians, who were standing around patting each other on the back and congratulating one other for passing a "tough" immigration bill. They seemed quite pleased with themselves, and they could now proudly tell their constituents how they had "cracked down" on illegals and "saved jobs" for Alabamians.
I had also read that many felt the new law could potentially make life even harder for many good and decent people with darker skin and little power or money. I shook my head, marveling at how little attention we sometimes pay to history.
School was out for the day, but there were still many lessons to be learned.