They Don't Call It Orange Beach For Nothing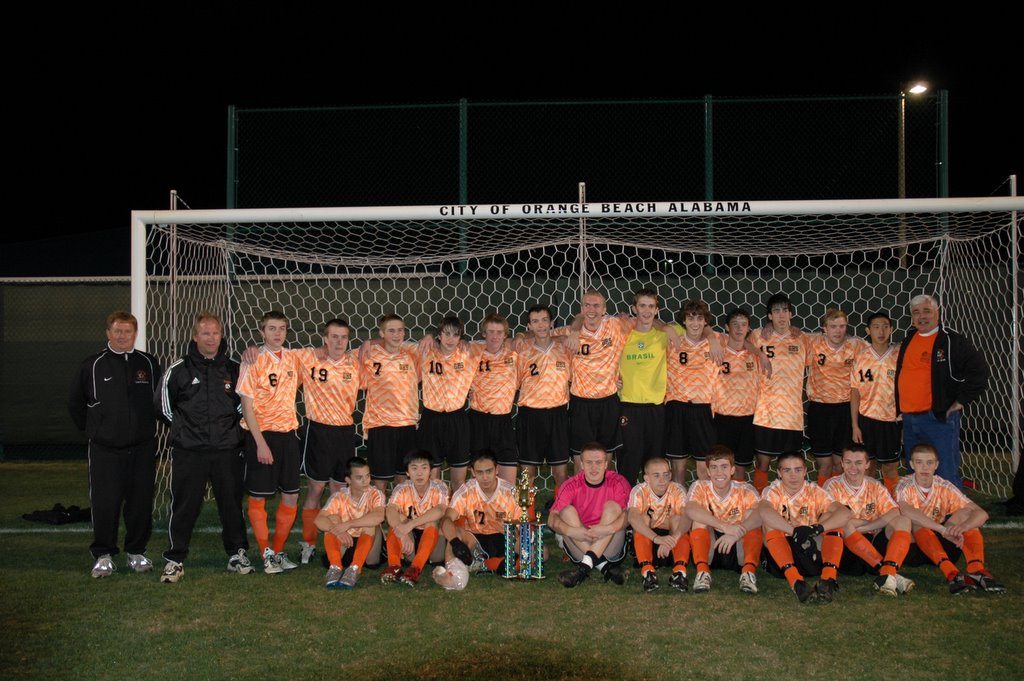 We've been traveling to soccer tournaments for many years and if there's one thing we've learned it's that it has to be about more than wins and losses. Soccer is a beautiful but fickle mistress–one moment she'll treat you like a king and in the next instant turn her back on you in the cruelest of ways. No, it's got to be about fun, good food and the fellowship of a band of brothers who give their last full measure of effort on the field of battle, and come what may, stand or fall as one.
Of course, winning is also nice. And when everything goes your way, as it did this weekend with the Grissom Tigers winning the Island Cup Championship in Orange Beach, Alabama, you find yourself especially grateful. Grissom defeated a fine squad from Union High School in Tulsa, Oklahoma (ranked #3 in the nation in 2005) 1-0 in a hard fought final. The tournament started off with an 11-0 blowout of local favorite Foley (the game was mercifully called at halftime), and the Boys in Orange then went on to defeat two other tougher Alabama teams, Albertville and Cullman, both by 1-0 scores.
The final match saw a smaller, but skilled and tactically sound Grissom side facing off against the speed and bulk of the Okies from Tulsa (what do they put in the beef out there to grow boys that large?). It was a fast and physical rumble which saw both teams come up short on several good chances in the first half. Early in the second half, the Tigers drew first blood off a well-placed header taken off a corner kick. Union then picked up the pace and pressed hard but the Tiger defense held fast and fended off several dangerous attacks. We countered with some charges of our own, and were it not for some fine saves by an aggressive Union keeper, we could have very easily score two or three more.
When the dust settled, Grissom was the last team standing and the Island Cup Championship was ours. There's still a long road ahead to the state championships in May, but a tournament championship and a win over a nationally ranked team is a great way to start down the path. In the meantime, Orange Beach is now a little oranger. In fact, now that the Tigers have blown through town, it could be said that they don't call it Orange Beach for nothing.