The Fish House–The Place Where Dreams Come True
Marvin the Goldfish is like a Timex watch–he just keeps going and going and going…
His spirit I mean. The body itself is still in a sandwich baggy, buried deep in our freezer somewhere between the ground beef and the ice cream. That is, unless Eyegal got him mixed up with the frozen tilapia.
Final arrangements are incomplete, but ongoing. More on that shortly.
You may recall the readers who reached out to us in our time of Marvin-mourning with a very kind offer of a replacement goldfish. Yes, I know, it goes without saying that Marvin is irreplaceable, but it was still awfully nice of them.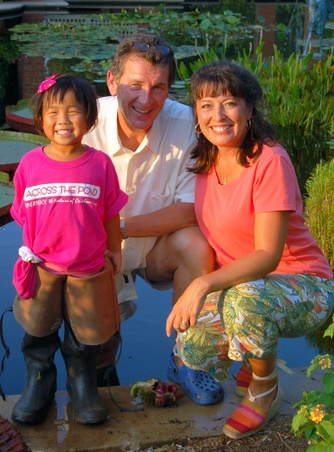 So last Saturday, Eyegal and I ventured up North Memorial Parkway to search out Trevor and Jeannie Cole, owners of the the outdoor garden/nature store, "Across the Pond." They were having an open house that day, so our timing was perfect. We were met at the door by Jeannie and her lovely daughter Olivia who exclaimed, "Welcome to Across the Pond, and Merry Christmas!"
Honestly, she had us at "Welcome."
Jeannie is an assistant district attorney, but when she's not busy busting up crack houses and seizing the assets of drug traffickers and turning them toward better uses, she works alongside her husband Trevor sells bird feeders (every shape and size imaginable), garden statues, pottery, landscaping materials, pond supplies and the world's largest collection of Tilley Hats. Basically, anything you might need to set up your own private nature preserve.
Trevor is a native Englishman ("Across the Pond," get it?) who has nurtured a livelong love of nature and parlayed it into a successful career as an expert in birding, water-gardening and fish-keeping. He and Jeannie have traveled all over the world, especially Asia, to improve their expertise in those industries and share it with the people of North Alabama.
Speaking of which, Trevor has been "stuck" here since 1992 with a lovely family and surrounded by many friends and customers who don't understand the attraction of Grand Prix auto racing and "football" played without helmets and shoulder pads.
The poor bloke. At least he has Fox Soccer Channel.
They showed us around the store and then took us into The Fish House. You'll never guess what we found there: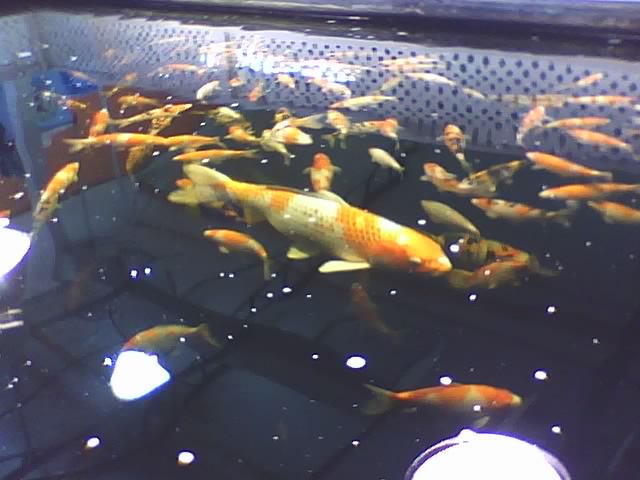 Marvin never got that big. These are more his size: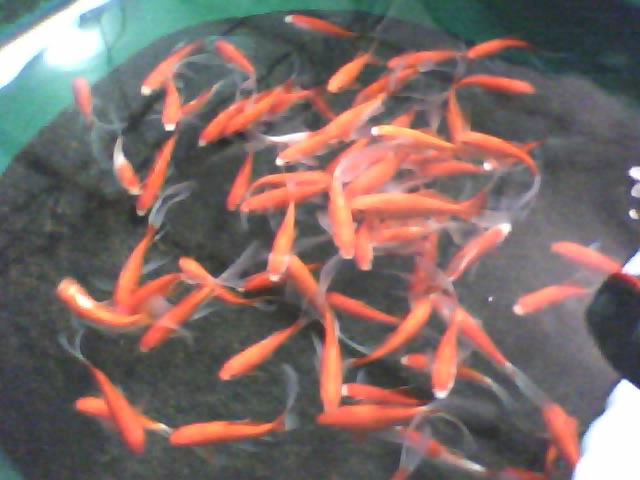 As I stared at tank after tank of beautiful, pond-quality goldfish, I began to imagine that maybe Marvin was someplace like this, swimming among all those other goldfish "who have gone on before," munching on fortified fish flakes forever and forever…
My reverie was interrupted when Trevor and Jeannie told us about their plan to laminate my Huntsville Times column and place it, along with a picture of his "parents," in The Fish House as a memorial of sorts and a reminder to potential customers of how owning goldfish can be among life's more enriching experiences.
Eyegal and I were thrilled beyond words. We knew that was just the way Marvin would have wanted it.
This is what I think will happen: People will come to The Fish House. Oh yes, people will come, Trevor and Jeannie.
They will drive up Memorial Parkway "for reasons that they can't even fathom." They'll arrive at Across the Pond, "innocent as children, longing for the past."
"Of course, we don't mind if you look around," you'll say.
Then they'll read Marvin's moving memorial, gaze upon the thousands of goldfish swimming joyfully in those high-tech tanks and "they'll feel as if they've been dipped in magic waters. They'll pass over the money without even thinking about it; for it is money they have and peace they lack."
Goldfish–they "remind us of all that once was good and could be good again."
Ah, good times.
Thanks to Jeannie, Trevor, Olivia and all the good folks at "Across the Pond" for your kindness and hospitality. Needless to say (but I will anyway), if you're near Huntsville or Florence and find yourself with a hankering for the simple pleasures of outdoor life, then Jeannie and Trevor are the go-to people for all your birding, ponding and statuary needs.
As for Marvin's remains, Number Two Son, the one who extended Marvin's life by one week with his mad YMCA rescue skillz, apparently feels that a simple "burial at sea" is not dignified enough and has other plans.
You might recall that he's the one with a special knack for making friends with law enforcement officers from various jurisdictions. In fact, just this past weekend he made another special friend in the tiny hamlet of Piperton, Tennessee.
So not surprisingly, the plan involves dark clothes, black face paint, cover of darkness and is most likely illegal.
If this goes down, I'll let you know the details, including whether or not I bailed him out of jail.
When I think about it, having a friend in the district attorney's office might not be a bad thing.