T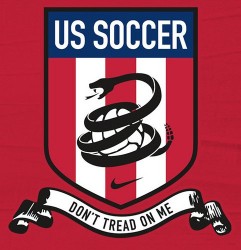 he opening match of World Cup 2010 is underway, and in a desperate attempt to bring "The Beautiful Game" to the attention of my more unwashed American readers, I played the sex card and came up with a splashy, tabloid headline.
So tell me, did it work?
Four years ago, I tried my best to explain to one of my All-American, baseball-loving friends "Why the World Cup Matters."
The following quote from that post is a true today as it was then:
It's an acquired taste, and when it comes to taste, most Americans don't have very much.

The rarity of the goals is what makes them special. Unless you have played or coached, it's difficult to understand just how hard it is to score a goal against a well-organized defense and a smart, athletic keeper.

Unless you have ever experienced the tantalizing frustration of near-goals, the ballet of a ball well-possessed from back to front to back and up top again, unless you have ever seen a sliver of space appear for an instant inside the 18, like heaven itself opening up before you, and unless you've witnessed the beauty of a well-struck ball slipping through the left upper 90 like a thread through the eye of a needle, and then the explosion, the pure release of raw energy that is a goal (some have compared it to…you know), then, my friend, you have not experienced true joy.

It is the common language of the world. This week in Honduras, 6 American teenagers took on 6 Honduran youths in their own version of World Cup, played on a field made of donkey dung (USA won). There wasn't a lot of Spanish or English being spoken, but they all understood each other quite well.

This is boring? Compared to what? A game where we all sit around staring at nine guys with grass growing up between their toes waiting for something to happen?

Ole.
Since that time, my sons have played in Mexico and Guatemala as well, and even though they're no longer playing competitively and have moved on to other adventures, they're still fluent in "futbol."
In fact, it's really hard to talk about our family tapestry without referencing soccer. If you tried to remove the soccer thread, the whole thing would unravel. We've been involved with the game since that day in 1993 when Eyegal called me at work at told me that she had signed up Number One Son, then 4-years-old, for soccer.
"You did what?" I asked. I had no idea what we were getting ourselves into.
We spent many hours and dollars participating in youth soccer, and along the way experienced many thrilling victories, the agony of "de feet," titan struggles, various futbol "Boo-Boos," and even one broken leg.  We traveled as a family, and Eyegal and I had opportunities to travel with each son separately, resulting in many memorable conversations about life and…"you know."
It was exhausting at times, and when it came time to let go, it hurt a little. But we've adjusted to life without soccer and are finding ways to enjoy the extra time we now have. You mean, people actually stay home on weekends and watch college football? Wow, I never knew…
But you know what? If we had it to do over again, we'd do it exactly the same way.
I probably won't be posting as much on here as I did four years ago, saving most of my enthusiastic outbursts for Facebook and Twitter. But I will try to post a few thoughts on the USA v. England match on Monday.
Yo, you bunch of Limeys–Don't Tread on Me.