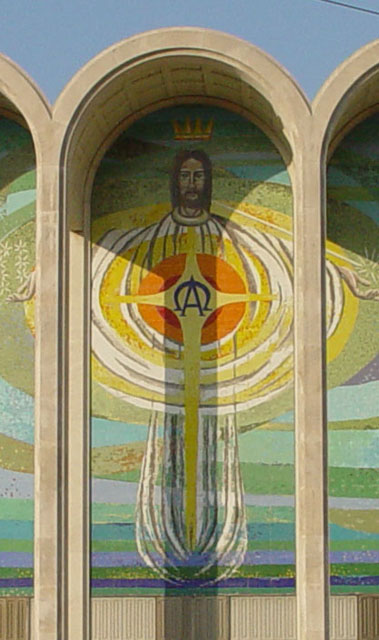 I'm grateful to Full Professor Elrod for reminding me that we have our own version of "Touchdown Jesus" right here in Huntsville. "Eggbeater Jesus" is a 43 feet tall mosaic Messiah consisting of approximately 14 million pieces of the very finest Italian tile. This culinary Christ is located on the side of the First Baptist Church on Governors Drive near downtown Huntsville, just a few steps from where I work.
The name should be self-explanatory, but given the performance of Alabama place kicker Leigh Tiffin (3 missed FGs and 1 missed PAT) last Saturday against Arkansas, I would propose we give Him a new title– "Wide Right Jesus."
But hope springs eternal in the Church of Football. Should the Crimson Tide manage to get by the Florida Gators in "The Swamp" this weekend (Miracle #1), and should I be driving down Governors Drive on Monday morning and look over and see that "Wide Right Jesus" has now raised his arms to signal a score (Miracle #2), then I hereby promise that I will make a hard left into the parking lot and immediately convert to the Baptist Church.